CNA classes in Madison, Wisconsin that are available for enrollment as of the making of this post are listed in detail on this page. These certified nursing assistant programs have all been approved by the Wisconsin Department of Health and Services. Call the phone number listed below for further details about enrolling in instruction, cost of tuition, classroom schedules, and certification requirements in the state of Wisconsin.
MADISON AREA TECHNICAL COLLEGE
211 N CARROLL ST
MADISON, WI 53703-
(608) 258-2479
http://matcmadison.edu/program-info/nursing-assistant
(Multiple classes are being offered)
CENTRAL WI CENTER FOR THE DEVELOPMENTALLY DISABLED
317 KNUTSON DR
MADISON, WI 53704-
(608) 301-1810
MENDOTA MENTAL HEALTH INSTITUTE
301 TROY DR
MADISON, WI 53704-
(608) 301-1366
NEWAY DIRECTIONS
6400 GISHOLT DR,  SUITE 102
MADISON, WI 53713-
www.newaydirections.com
(608) 221-1920
A CNA certification is a requirement to work as a full-time nurse aide in Wisconsin. Employers are required to check each applicant's certification before hiring any of them by simply visiting the Nurse Aide Registry website or checking through Pearson VUE (http://www.asisvcs.com/services/registry/search_generic.asp?CPCat=0750NURSE).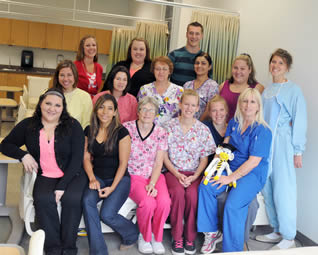 If you had never been certified as a nurse aide before, then the only option for you to become a full-time employee is to take the National Nurse Aide Assessment Program Exam or NNAAP exam. This exam initially consists of a written examination and a clinical skills exam. Candidates who have trouble reading can request to take an oral version of the written exam instead. Only candidates who pass both tests are allowed to gain entry into the Nurse Aide Registry and are given CNA cards.
Before you can take the NNAAP exam you must first apply for it; and this requires you to establish eligibility. There are different ways how you can qualify for the exam, you can train as a military medic or corpsman, or learn the Fundamentals of Nursing as a nursing student/graduate. However, the most common way of establishing eligibility is by successfully completing a state-approved nursing assistant course.
CNA courses in Wisconsin take a minimum of 120 hours to complete. Thirty-two of these hours are allocated for the practical training portion of the program. During the clinical training the students will be, at all times, under the supervision of a qualified nurse aide instructor. Prior to starting the clinical training, students are first required to learn the following topics:
–    Patient Rights and Independence
–    Roles and Responsibilities of a CNA
–    Basic Nursing Procedures
–    Safety and Emergency Care
–    Infection Control
–    Medical Terms
–    Human Anatomy
–    Data Collection
As soon as you are through with your training, you can immediately submit the application forms for the NNAAP exam. Normally, your instructor will be the one who will give you these forms at the end of your training, but if you failed to get one, then you may download and print a copy through this link: http://www.asisvcs.com/publications/pdf/075002.pdf.
Tips in Taking the NNAAP Exam
–    Arrive at least 20 to 30 minutes before your scheduled time
–    Eat a well-balanced meal before going to the testing site
–    Get plenty of sleep
–    Plan your day accordingly
–    Try out the sample knowledge test that are included in the Candidate Handbook
You can get a copy of the Candidate Handbook by downloading it from www.dhs.wisconsin.gov or www.pearsonvue.com. For general questions please call the Nurse Aide Registry at (877) 329-8760.
Madison is the capital of the state of Wisconsin and is the county seat of Dane County. It has a total population of over 233,209 people It is considered to be the second largest city in the state. It has a total area of approximately 84.7 sq miles and has a population density of 3,029.8/sq mile. Major roads serving the city include Interstates 39, 90, and 94, U.S. Routes 12, 14, and 18.
The St. Mary's Hospital, Meriter Hospital and the VA Medical Center are three of the biggest hospitals in the city. Other health care centers that you can find in the area include Journey Mental Health Center, UW Health-East Towne Clinic Urgent Care, Northstar Counseling Center Mental Health Services, The Center For Christian Counseling, Family Therapy Center Of Madison, and many more. photo attribution: ufv