The nursing assistant classes in Lawndale, California that are currently available can be seen in detail below. If you have any questions regarding their nursing assistant classes, please call the number that is provided. If you know of any programs that are available in this city, please submit them to us for inclusion here.
[There are no CNA Classes in Lawndale, CA that are currently being offered.]
There are classes available in the nearby city of Gardena, California.
If you are seeking work with great opportunities, you should try to consider becoming a nursing aide. Nursing aides are very in demand not just in California, but throughout the United States. The growth rate for the demand of nursing aides in California is higher than the national average. According to the law, only certified nursing aides are allowed to work in CDPH-approved nursing facilities.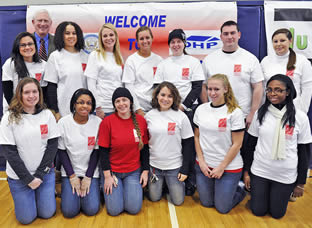 For those that wish to work as nursing aides in the state of California, there are several different requirements you must complete. Two of the primary ones are completing a state approved school program that teaches the fundamental nursing proficiencies you will need on the job and passing the state nurse aide exam. To enroll in a course you must undergo a thorough background screening for the state and federal government and receive a physical examination. You will also be required to submit photo identification and complete an application form. Once you have enrolled in a  program your curriculum will include manual skills practice in a medical setting as well as health care theoretical instruction.
Requirements to become a CNA in California:
•    Complete  a CDPH-certified NATP
•    Apply for and pass the NNAAP exams
•    Be physically and mentally fit to take care of patients
•    Be fingerprinted and pass the national background check for criminal records
•    Be at least 18 years old
•    Have complete immunizations
CNA Training in California
Training programs in this state are offered by both private and public schools and institutions. Their training consists of classroom lectures and supervised clinical practice in a nursing home or facility. It can take a minimum of 150 hours to complete a program. The program will teach 16 different modules that will cover topics such as body mechanics, vital signs, nutrition, medical and surgical asepsis, human anatomy, and basic and personal care.
Before students go to the nursing home for their clinical practice, they must first be fingerprinted and undergo the federal and state background checks through the Live Scan Service. A copy of the completed Request for Live Scan Service must be sent to the ATCS before the start of the clinical practice.
Taking the National Nurse Aide Assessment Program Exam
The NNAAP exams in California are conducted and scored by the Pearson VUE Testing Company. It consists of a multiple-choice knowledge exam and a practical skills evaluation. Candidates are required to pass all the tests in order to get certified. They must do this within 3 attempts and within 2 years after completing their training.
On the exam day, please arrive at least 20 minutes before the start of the exams. Do not forget to bring one valid government-issued ID and your Social Security Card. If you do not arrive on time or fail to bring the two required IDs you will not be allowed to proceed and take the exam. All payments are final and are non-refundable.
If you are unable to take the exam on your scheduled date, please inform the Regional Testing Center at least 2 business days. Candidates who inform the testing center at least 48 hours ahead will be allowed to reschedule for free.
Lawndale is a city that is part of Los Angeles County. You can find this city in the South Bay region of the Greater Los Angeles Area. According to the latest census, their population is now up to 32,769 people. Lawndale was once a part of Rancho Sausal Redondo, which was a land grant that was given by the Spanish back in the colonial times.
Examples of the health care providers that you can avail in the city include Prosperity Home Health Services, Memorial Medical Care Center, Woods Ronald C MD, Medical Clinic, Healing Hands Medical Group, Centinela Medical Center-Lawndale, Gidda's Home Health Services Inc., and Inter Home Health Care Services. photo attribution: westconn