The CNA Classes found in Jackson, Mississippi and are available for enrollment, as of the making of this page are listed below.
Cottage Grove Nursing Home
1116 Forest Avenue,
Jackson, MS 39206
(601) 366-6461
Healthcare Institute of Jackson
405 Briarwood Drive, Suite 110,
Jackson, MS 39206
(601) 956-3940
CNA Training Center, Inc.
350 West Woodrow Wilson Drive, Suite 3620,
Jackson, MS 39213
(601) 364-1188
http://www.cnatrainingcenter.com/
Hinds Community College Nursing Allied Health Center
1750 Chadwick Drive,
Jackson, MS 39204
(601) 371-3522
http://www.hindscc.edu/
Southeastern Career Training Center American Red Cross Partnership
2246 Flowood Drive,
Jackson, MS 39232
(601) 267-8381
To be eligible to take the certification examination one will need to go through a state recommended training course that provides the health care fundamentals needed for safely caring for patients. Instruction will offer theory based coursework and lectures as well as clinical practice performing the most commonly used skills and procedures. Students will get to actually use the equipment and skills required for the job in a real life setting under the guidance of a registered nurse.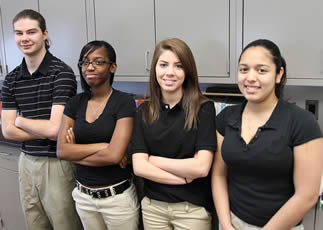 After finishing classes the Pearson Vue company can help you schedule a date to take the exams. Taking the license exams is the only way to get non-nursing assistants to get their name on the Nurse Aide Registry. Before you are able to take the exams, you will have to be eligible and apply for it by completing the application form and submitting other documents such as a copy of your training program certification. Pearson Vue can be reached to set up a testing time by calling toll free to 1-888-204-6213.
The first part of the exams is the written exams, which are composed of 70 items. All of the questions are multiple-choice. The 10 of those are pre-test questions and are not scored. For those who are not that good reading English, they may request to have an Oral examination instead. The oral exam will have 60 multiple-choice questions and 10 items of reading comprehension.
The second portion is about the skills demonstration. In this exam, every student will be given a simple scenario where they will have to perform 5 nursing tasks within 25 minutes. The nursing procedures that will be performed are all randomly selected.
After passing all the tests, the name of the applicant will then be added to the Registry. If he wishes to check his/her status, he/she may do so by going online to www.pearsonvue.com and click on the "Registry Services". Once there, all that will be required is to fill out the fields with the requested information. The Mississippi State Department of Health is also available to handle inquiries regarding certification and licensure and can be reached at 601-364-1100.
Jackson is the capital of Mississippi. It also serves as the county seat of Hindus County, along with the town of Raymond. You can find this city just south of the Yazoo River. Jackson has been nicknamed as the "Crossroads of the South. According to the last census, they had a total population of 173,514 people and a total area of 106.8 square miles.
Examples of the many healthcare facilities that are available I the city are Baptist Nutrition Center, Baptist Physical Therapy & Sportscare, Plastic Surgery Center, Baptist Medical Clinics, Sleep Disorders Center of Mississippi, Windsor Medicare, Jackson Medical Mall, and many more. photo attribution: germannacommunitycollege