CNA Classes in Bentwood, California are shown to you on this page. This page contains all the available certified nursing assistant classes that are being offered as of this moment. For more information about receiving your CNA certification, class tuition costs, or schedules, just contact the number provided.
Contra Costa School of Nursing
6715 Brentwood Blvd.,
Brentwood, California 94513
(925) 308-7724
CNAs are one of the most in demand healthcare providers in California. As the number of elderly people in the state increases, so does their demand. Experts believe that this increase will continue up until the end of the decade. If you want to start a career in the field of health, the best way to do it is to become a nursing assistant.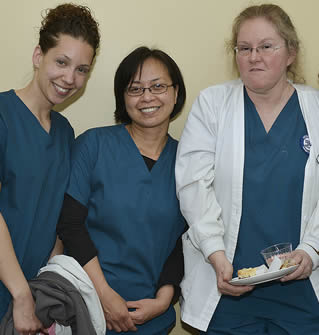 There are different routes that you can take to become a nursing assistant in this state but the best way to do it is to enroll in a CDPH-approved CNA training program. Programs in CA are required to offer no less than 150 hours of training. These hours are divided into 50 hours of theory and 100 hours of supervised clinical training. A program may add additional hours to their curriculum if they wish.
Once you complete your training, you will be allowed to apply for the NNAAP examination. This exam consists of a written knowledge test and a skills evaluation. If you have trouble in reading English, you can request to have an oral exam instead of the written test. To get an oral exam, you must make a request upon submitting your requirement.
Taking this exam is a necessary step in becoming a nursing assistant. Employers will only hire those who are properly certified by the Aide and Technician Certification Section and will look for a CNA certificate. To get certified, candidates must pass all the parts of the exam. A failure in one part means a failed NNAAP exam. If you wish to retake, you will have to reapply for the exam and pay for the test that you will retake.
CNA certificates are sent by the ATCS to the passer's mailing address within 10 days after they pass the exams. If you do not receive this certificate after 30 days, it will be your responsibility to call the ATCS at (916) 327-2447 and talk to a CNA representative. For other complaints, you can call (916) 492-8382.
You may work as a CNA so long as your certificate is active. To keep it active, you will need to renew it every 2 years. When renewing, you will be required to provide proof that you were able to work for at least 8 hours as a paid nursing assistant and complete 48 hours' worth of in-service training or continuing education. You must make a minimum of 12 hours of in-service/CE every year.
To avoid any problems when you renew, you must inform the ATCS if you changed your name or address. Please inform them within 60 days of the change. You can inform them by completing a Change in Name or Address form (http://www.cdph.ca.gov/pubsforms/forms/CtrldForms/cdph0929.pdf) and send it to the address provided on the form or fax it to (916) 552-8785.
This city is a part of Contra Costa County. You can find this city in the East Bay region of the San Francisco Bay Area. It is located next to the cities of Antioch, Oakley, and Discovery Bay. As of last year's census, they have a total population of 51,481 citizens. The economy of this city is mostly centered on agriculture. However, recently there has been the addition of many shopping areas, and a multimillion dollar downtown renovation project. It has a total area of 14.805 sq miles and a population density of 3,477.3/sq miles. Major highways that you can access to get to this city include State Route 4 Bypass, Vasco Road, and Interstate 580.
Health centers and facilities that you can access in the city include John Muir Health Urgent Care Center Brentwood, Contra Costa County Women Infants and Children-WIC Program – Far East County, Lone Tree Medical Clinic Inc., Brentwood Health Center – Appointments, Fresenius Medical Service of B Brentwood, and J M J Home Health Services. photo attribution: ufv