Nursing assistant training in Clinton, Iowa that are available as of the making of this post are listed here. Included in the list are all the colleges, high schools, and health facility training centers that are offering nursing assistant classes in the city of Clinton.
Clinton Community College
1000 Lincoln Blvd., Clinton, IA 52732
(563) 244-7001
http://www.eicc.edu/general/clinton/index.html
To become a nursing assistant, you will need to be equipped with the basic knowledge and skills that you will be using to take care of the residents. It is very important that the quality of care that the residents receive from you and your fellow healthcare workers are high. That is why that you should only enroll in a program that is approved by the state. These programs are found all over the state and are offered by different educational facilities. Examples of such facilities include community colleges, healthcare centers, and even high schools. Courses are required to offer 75 hours of training with 30 of those hours devoted to practical hands-on nurses aide skills instruction.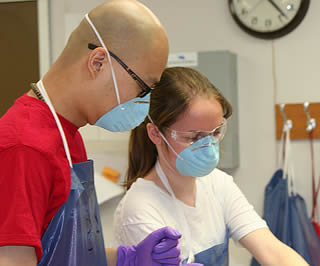 By completing a state approved program, you will become eligible to apply for the license exams. These exams are composed of two parts, a written and a skills evaluation on the basic nursing skills. If you pass both parts, your name will automatically be entered in the Nurse Aide Registry. This is a necessary step since the state will not allow nursing assistants to work in any healthcare facility if they were not able to pass the exams. The state also offers reciprocity to those CNAs who wish to work here. When they apply, they must have an active status with their home state. Since they will also be required to pass the background checks, they should also have a good relationship with their state.
Clinton is the county seat of Clinton County. The city was named after a governor from New York, DeWitt Clinton. This is one of the two cities that was named after him. Clinton is a part of the Clinton Micropolitan Statistical Area. According to the 2010 census, their total population had reached up to a total of 26,231. They have a population density of 689.4/sq mile. The total area of the city is estimated to be 38.3 sq miles, where 2.8 square miles of it is water. Major roads that you can access to get to this city are U.S. Route 30 and U.S. Route 67.
Examples of health care providers whose services you can avail are Clinton Back & Neck Care Center, P.C., Women's Health Services, Cadogan Chiropractic, Quality SurgiCenter, Gateway Surgery Center, Clinton Ear Nose Throat Specialists, Riverview Chiropractic, Medical Associates, Burkert Chiropractic Center, and Quality Care Clinic. photo attribution: iubmedicalsciences