The certified nursing assistant classes in Abilene, Kansas that are currently being shown on this page are all the licensure programs that are available for enrollment. For any questions, please call the number provided below and talk with a facility director.
Memorial Hospital LTCU Village Manor
705 North Brady Street,
Abilene, KS 67410
(785) 263-1431
This is the best time for you to enter the medical field. With the continuous increase in the aging population the demand for health care providers is continually increasing. By becoming a nursing assistant, you get to be exposed to basic experience in the medical field which can be helpful as you advance. Nurse aides are tasked with taking care of patients with the use of basic health care skills that they learned during the training program.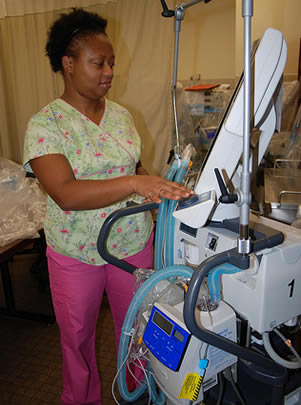 If you plan on becoming a nursing assistant in Kansas then you must make sure that you will be able to comply with the requirements of the state. Among them, two of the most important are the completion of a state-approved training program, and passing the federal and state background checks. Without these two, you will not be allowed to proceed and become a CNA.  Most of the training programs in their state can be completed within 13 weeks of training. For the background checks, if you were not convicted of any serious crimes, you will not have any problems.
Once you have complied with these two, you will become eligible to apply for the exams. Nurses from foreign countries may also apply for the CNA license exams. They will only need to provide proof of their training and education, as well as meet the number of hours required for practical training. The license exams for this state are handled by Pearson Vue. To get your name entered in the state's Nurse Aide Registry, you will need to pass both the written and the skills evaluation. There are also some occasions where you will have an oral exam instead of a written for the first part of the test. If you feel that you are not yet ready, you may postpone taking the exams for up to two years.
Abilene is the county seat of Dickinson County. It was originally established as a stage coach stop by Timothy Hersey back in 1857. The name of the city was taken from a Bible passage which means "City of the Plains". Abilene was the very first "cow town" of the west, when Joseph G. McCoy used the location for his stockyards. According to the census of 2010, their total population was around 6,844. The city has a total area of approximately 4.1 sq miles and has a population density of 1,700/sq mile.
Health care facilities that are located in the city area include Patterson Health Care Pharmacy, Central Kansas Mental Health, Schaulis Brian DDS Family Dentistry, Memorial Health System Rehabilitation & Sports Medicine – Rehabilitation Services, Comprehensive Pain Solutions, Heartland Health Care Clinic, Abilene Physical Therapy & Sports Rehab PA, and Heartland Surgery. photo attribution: armymedicine