The schools that are available for nursing assistant classes in Peoria, Arizona are listed here. These programs meet the requirements of the Arizona State Board of Nursing and are approved certification courses.
Sun Grove Village Care Center
20625 N Lake Pleasant Rd
Peoria, AZ 85382-9704
623-566-0642
Medstar Academy
8282 West Cactus Road
Peoria, AZ 85381
623-773-9000
Website: http://www.medstarcnaschool.com/
Centennial High School
14388 North 79th Avenue
Peoria, AZ 85381-4682
623-412-4400
Sunrise Mountain High School
21200 North 83rd Avenue # 101
Peoria, AZ 85382-5491
623-487-5125
Map of available CNA classes offered in Peoria, Arizona:
The completion of a certified nursing assistant training program is a necessary step in becoming a nursing assistant. These programs are being offered by colleges, high schools, as well as healthcare centers and can be completed within 3 months. They have no age limits, which makes them open to those who wish to have a career in healthcare. Before you enroll in one, you should make sure that the program is approved by the state. This way, you will be sure that you are eligible to take the exams once you finish it.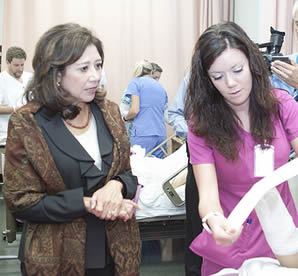 One cannot take the license exams without undergoing the proper training. It is one of the most important requirements for the exams. Another necessary requirement is passing the background checks for criminal records. This is needed in order to protect the residents' interests. Other requirements for the exams include paying the fees, submitting the completed application form, ID photo, fingerprint cards, as well as the results for your immunization and physical exams.
During the exam you will need to take two separate parts. One is a skills demonstration where you will need to perform several different tasks in an environment similar to that found in a nursing home of a test candidate. The other test is a written or oral test that will cover your knowledge of general health care procedures and techniques. Those who pass both portions become certified to work and included on the registry for a two year period. You can contact the registry by calling 602-771-7800 to learn more about the requirements needed.
Peoria is a city that is a part of Maricopa and Yavapai Counties. But primarily it is a part of Maricopa county and is a major suburb of Phoenix. As of the 2010 census, their total population is 154,065. It ranks as the 9th most populous city in the entire state. Also, it currently ranks as the 6th largest city in Arizona in terms of land area. Its total land area is approximately 138.2 sq miles.
Health care centers that you may find in the area include Cactus Chiropractic, Take Care Clinic at select Walgreens, AAA Nowcare, Alliance Urgent Care, Banner Arizona Medical Clinic, Concentra Medical Center-Northwest, Nowcare, and The Pain Center of Arizona. photo attribution: usdol