Nurse aide training in Yucca Valley, California can be seen listed on this page. Students who join one of these programs will receive health care instruction and examination preparation to help them become qualified for the job. If you have any questions about their training programs, certified nursing assistant requirements, or tuition costs, call the number provided.
Desert Manor
8515 Cholla Avenue,
Yucca Valley, CA 92284
(760) 365-0717
Sky Harbor Care Center
57333 Joshua Lane,
Yucca Valley, CA 92284
(619) 365-4870
If you wish to start a career in the field of health, then you might want to think about becoming a certified nursing aide.  CNAs are in demand throughout the country since they can be found working in all sorts of healthcare settings. To work as a nursing aide in California you must get certified by the state's ATCS. The certification process starts by enrolling in a CNA program and ends by passing the NNAAP exam.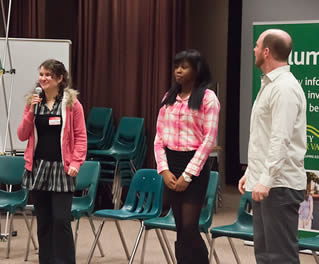 CNA training in the state of California consists of 50 hours of lectures and 100 hours of supervised clinical practice. There are some training programs that offer more than the minimum 150 hours. You can find training programs offered by different institutions such as hospitals, nursing homes, clinics, assisted living centers, community colleges, and government organizations.
To be enrolled in a state-approved program, you must at least be 18 years old, have a high school diploma or a GED certificate, and have all the necessary immunizations. Before you consider starting this career, you must make sure that you will be able to pass the national background checks. No nursing aide student is allowed to complete a program without submitting the results of their background checks.
Once you complete your training, you will become eligible to apply for the NNAAP exam. The NNAAP exam is the final step in becoming a nursing aide. Those who are able to pass both its written/oral test and clinical skills demonstration will receive a nursing assistant certificate from the ATCS.
The NNAAP exam in California is conducted, scored, and released by Pearson VUE. Candidates who wish to know more about the NNAAP exam can go to their website at www.pearsonvue.com and download a copy of the CNA Candidate Handbook.
CNAs from other states are allowed to apply for reciprocity if they wish to transfer and work in California. To be eligible they must have a clean record and a current certification. If an applicant gets approved for reciprocity, he or she will be allowed to work in a California-approved healthcare facility without the need for further training and testing.
The CA Department of Public Health can be reached with questions at (916) 327-2445 or contact them through email at cna@cdph.ca.gov. For verification of eligible schools contact the (TPRU) Training Program Review Unit at (916) 552-8873.
Yucca Valley is actually a town that is located in San Bernardino County. As of the latest census, their population has now grown up to 20,700 from 16,865 back in 2000. This town is about 17 miles from Twentynine Palms. You can also find Palm Springs a few miles from here. The San Bernardino Mountains can be seen on the westerns side of the town. The total area of the town is approximately 40.015 sq miles.
Health care centers that you can find within the city include Advanced Women's Healthcare, Morongo Basin Mental Health, Hi-Desert Behavioral Health Centre, Women's & Children's Healthcare Associates Inc., STD Test Express, Yucca Valley Family Healthcare Association Inc., Gambro Health Care, and Pacific Clinics. photo attribution: ufv