The CNA Classes in Yonkers, New York that are open for enrollment are listed in detail below. Course curriculum is provided to teach you hands-on skills practice using the primary nurse aide techniques and procedures as well as offer theoretical health care aptitude.
Cochran School of Nursing Andrus Pavilion St. John's Riverside Hospital
967 North Broadway, Yonkers, NY 10701
(914) 964-4283
http://www.riversidehealth.org/
Westchester EOC
26 South Broadway, 8th Floor, Yonkers, NY 10701
(914) 606-7646
www.ynk.eoc.suny.edu/
More and more people are looking for ways on how to enter the medical field. The best way to do that in today's economy is to become a nursing aide. Nursing aides help care of residents or patients who are ill, injured,  disabled, or infirm in nursing homes or other healthcare settings. Nursing assistants work mainly under the supervision of a registered nurse and the medical team. They take care of the patients by performing the basic nursing skills and their knowledge of the Fundamentals of Nursing.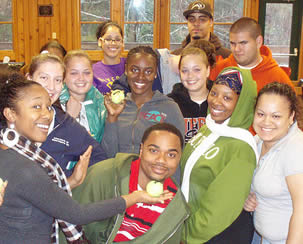 According to the law, for a nursing aide to work in a licensed health facility that is supported by Medicaid or Medicare, they must have a certificate. There are different ways of getting a certificate in the State of New York. These mainly involve in either being able to pass the competency evaluation exams or being directly entered into the NYSNAR.
For those individuals who do not have any background knowledge and skills in nursing, they are required to enroll and complete a 75-hour training program that is approved by the Department of Health. Their training hours will be divided into lectures, laboratory skills work, and on-the-job training. They will be taught in concepts such as patient rights, promotion of safety and independence, infection control, mental health, and assisting in different daily activities.
If an individual is employed in a NY nursing home or for an approved health care agency prior to starting the training, the individual may not be charged for any costs of the training. This includes payments for textbooks and other materials. All the fees will be paid by the state of New York.
Once they complete their training, the next step is to apply for the exams. Nursing graduates as well as foreign registered nurses are also allowed to take the exams once they have been deemed eligible to take the exams by the NYSDOH's NAR Program. The nursing graduates and foreign nurses are no longer required to undergo any additional training in order to apply.
The competency examinations will test both the skills and knowledge of the nursing aide candidate. In order to get his name on the Registry, the candidate must be able to pass all the tests. The results of the exams are released within a few days from the date of the exams. If the candidate passes, his CNA license and wallet card will be sent in the mail.
This is a city that is a part of Westchester County. It can be found a few miles north of Manhattan and borders the borough, Bronx. According to the latest census, their total population was around 195,976 people, making it the 4th most populous city in the state. It was founded back in 1646. It has a total area of approximately 20.3 sq miles and has a population density of 10,827.4/sq mile.
Examples of health care providers, whose services you can avail, include Saint Joseph's Medical Center, Medical Training Assistance, Total Clinic, Community Choice Health, Advanced Medical Associates of Westchester, Anxiety Control Center, Access Health Care Supply, Coast to Coast Wound Care PC, and STD Test Express. photo attribution: create-learning