The nursing assistant classes in Wisconsin Rapids, WI that are open for enrollment are shown below. All training programs must be approved by the state of Wisconsin and offer the proper amount of hourly instruction. The programs listed on this page have been approved for enrollment by the state. For more information about getting started with their classes, the cost of instruction, or program schedules, please call the number below.
MID-STATE TECHNICAL COLLEGE
500 32nd ST N
Wisconsin Rapids, WI 54494-5599
(715) 422-5318
www.mstc.edu/nursingassistant
What is a Certified Nurse Aide?
A CNA is an individual who was trained to help nurses provide related health care to patients who are in different medical facilities. They got their certification, which proves that they are competent in their work, by meeting the federal and state's training and testing requirements.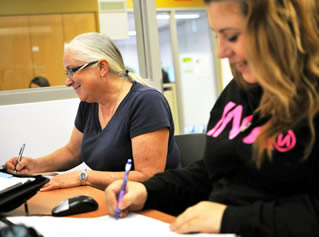 Nurse Aide Training Requirements
The best way to learn how to handle patients on the job is by enrolling in a certified Nurse Aide Training Program (NATP). These programs are required by the state to offer at least 120 hours of training. Their curriculum will always consist of both theory and (at least 32 hours of) practical training. Even as students, NA candidates will already experience what it is like to take care of patients. Prior to the start of the clinical rotation, students will first be taught about the following concepts:
•    Infection control
•    Basic nursing care
•    Personal care
•    Medical terminologies
•    Human anatomy
•    Communication and interpersonal skills
•    Safety and emergency care
•    Respecting the patients'/residents' rights
•    Promoting the patients'/residents' independence
Certification Exam
As soon as a candidate is through with his or her training, he can then apply and schedule to take the state's certification exam. This exam consists of a multiple-choice knowledge test and a practical skills test. Candidates will have a maximum of 120 minutes (2 hours) to answer all the questions of the knowledge test, and 30 minutes to perform the required medical procedures in front of a CNA instructor.  Candidates must pass both tests to gain entry into the Nurse Aide Registry.
The Nurse Aide Registry
This is a master list of all certification holders who were able to meet the federal and state training and testing requirements. According to the law, only those whose names are on the Registry are allowed to work as long-term nurse aides.
Employers will always check the names of each of their applicants on the Registry. If you wish to check your own status as a certified nurse aide, you may do so via http://www.asisvcs.com/services/registry/search_generic.asp?CPCat=0750NURSE. All you have to do is to either enter your complete name or your registration number.
Ths city is the county seat of Wood County. It is included in the United States Census Bureau's Marshfield-Wisconsin Rapids Micropolitan Statistical Area. According to the latest census, their total population was around 18,435 people. It had a total area of about 14.1 sq miles and a population density of 1,390.3/sq mile.
Health care providers that you can find serving the area include Pine Ridge Assisted Living LLC, New Horizons Dental LLC, Family Natural Health Foods, Central Wisconsin Counseling Associates, Daly Drug Inc., Surgery Center of Wisconsin Rapids LLC, New Horizons Dental LLC, and many more. photo attribution: ufv