The nursing assistant school classes in Whittier, California are provided in the list below. Included in the list are colleges, vocational schools, nursing centers, and online programs that are able to give you a genuine certification for nursing assistance.
Tri cities ROP/Southland Geriatric Center
12519 e. Washington blvd
Whittier, CA 90602
(562) 698-9571
(Multiple Classes are being offered here)
Rio Hondo Community College
3600 Workman Mill Road
Whittier, CA 90601
(562) 908-3421
To work as a nurse aide in California you must get a CNA certification. The Aide and Technician Certification Section is responsible for issuing all nurse aide certifications in California. You can only get certified if you pass the National Nurse Aide Assessment Program Exam.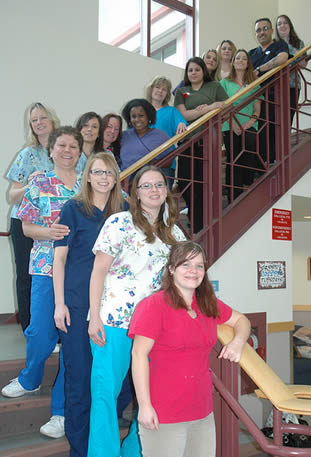 Before you can challenge the NNAAP exam you must first complete a state-approved CNA training course. It is the Aide and Technician Certification Section (ATCS) that is in charge of approving a program. These programs are being offered by training facilities as well as through the internet. For more information about school accepted by the ATCS and other questions you can contact them at their phone number by calling (916) 327-2445.
State-approved training courses in the state offer at least 150 hours of training, which is twice than what is required in most states. The training curriculum involves both theoretical lessons and supervised clinical practice. The demand for nurse aides in California is higher that the nation's average. This demand has made a number of training facilities start offering CNA training courses. Depending on the course you select, it can take you 2-6 months to complete your training.
After your training, the next step is for you to complete the Initial Application form (http://www.asisvcs.com/publications/pdf/070503.pdf) and send it to the CDPH for review. If you meet all the necessary requirements, the CDPH will deem you eligible to apply for the NNAAP exam. Only then can you submit your application form (http://www.asisvcs.com/publications/pdf/070508.pdf) for the NNAAP exam to the Regional Testing Center in your area.
When sending your NNAAP exam application you must also include the payment of $90 for the testing fee. Payments must only be in the form of a money order, cashier's check, or company check. Personal checks or cash is not accepted.
The NNAAP exam is divided into a multiple-choice knowledge test and a skills evaluation exam.  You will only get certified if you pass both exams. If you have trouble reading English, you can request to take an oral exam instead for an additional fee of $15. The request for the oral exam must be indicated in your application. If you have trouble deciding on which test to take, you can go to www.pearsonvue.com and take a self-assessment reading exam.
For most participants the license exams will have a written and a skills demonstration portion. Typically the written portion consists of multiple choice questions, and the skills test will have you manually demonstrating five different commonly used procedures.  You are required to pass both parts to get your license.
The results are normally released on the exam date. The names of those who pass are forwarded by Pearson VUE to ATCS. If you pass all the tests, you can expect your CNA certificate to arrive within 10 business days. If you do not receive your certificate within 30 days after passing, please contact the CDPH at (916) 327-2445.
If you already possess a CNA license, then you can apply for reciprocity. The state offers nurse aides from other states reciprocity so that they may continue with their profession. When you apply, you must still have an active license. You should not have any criminal records that may prevent you from working in this state.
Whittier is a city that can be found within Los Angeles, County. It is jsut 19 km south of L.A. City. As of last year's census, the population of the city has now reached up to 85,331. The city has about 14.7 square miles of land area and has a population distribution of 5,818.6 people per square mile.
This is a city that is situated in Los Angeles County. It is just a few miles southeast from Los Angeles itself. As of the 2010 census, they now have a total population of 85,331. The city got its name from the famous poet named John Greenleaf Whittier. The city's total area is approximately 14.7 sq miles and it has a population density of 5,818.6/sq mile.
The top employers of the area include Presbyterian Intercommunity Hospital, Whittier Hospital Medical Center, Bright Health Physicians, and Southern California University of Health Sciences. Each of these companies has over 200 employees and are still expanding even today. Other health clinics in the area include La Mirada Women's Clinic, Inter Community Dialysis Center, Eli Don T MD, Professional Care Health Center, McHealth Center, and Holistic Health Center Inc. photo attribution: ufv