Joining nursing assistant classes in West Plains, Missouri is one of the best ways to get the skills required to pass the certification exams. Programs will teach you the basic health care procedures needed on the job and provide you with actual hands-on practice performing tasks. Call the facility to learn more about enrollment availability.
South Central Career Center
1009 Jackson,
West Plains, Mo 65775
417 256-8883
http://wpr7.schoolwires.net/Domain/8
Getting into an instruction program is the first step in becoming a nursing assistant. By completing CNA classes, you will become eligible to challenge the nursing assistant license exams. If you pass both the written and the skills demonstration exams, your name will then be entered on the NA Registry of the state and you will be allowed to work as a nurse aide.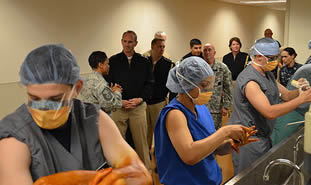 Each training program has its own set of requirements that you will need to comply with in order to be accepted. They do however, have some common requirements. These include:
1.    You must be 18 years old and above.
2.    Your name must not be on the state's Department of Health and Senior Services employment disqualification list.
3.    You must not have been found guilty of crimes that prevent you from working as a nursing assistant.
Once you enter the program, you will be spending a total of 75 hours in classroom lectures and laboratory works, as well as another 100 hours for the clinical rotation of your training. You will be taught different concepts which you will use in taking care of the residents like infection control, promotion of safety and independence, respecting the rights of the residents, and certain emergency procedures.
Those who have finished a training course or received a letter of approval to challenge the exams may schedule a test date. The exams have two parts which are a manual tasks demonstration and a written multiple choice quiz. Applicants are required to pass both parts before they can be officially certified and added to the state's registry for nurse aides. Once listed there you will be included in the searchable database employers use to verify your certification before hiring. You will need to renew this listed every 24 months. This is accomplished by submitting verification of time on the job from your employer.
West Plains is the county seat of Howell County. It is also part of the West Plains Micropolitan Statistical Area. According to the latest census, their total population has reached up to 10,866 people. West Plains has a total area of approximately 12.4 sq miles and has a population density of 879.0/sq mile.
Examples of health care centers that you can find in the area include Take Care Clinic at select Walgreens, Brown Garry Doctor of Osteopathi, McCormack Megan E MSW LCSW, Southern Missouri Community Health Center, Crown Family Practice PC, Ozarks Medical Center, Pain Treatment Associates, Women's Health Care of Southern Missouri, West Plains Ambulatory Surgical Center, Department of Mental Health, and Oxford Health Care. photo attribution: militaryhealth