The certified nursing assistant training courses in Waymart, Pennsylvania that are shown here are from the state approved schools that are currently available for enrollment. Call the phone number listed here to find out the requirements to enroll in class instruction.
Wayne Woodlands Manor
295 South Street,
Waymart, PA 18472
(570) 488-7130
Security, opportunities, demand, and rewards are among the many concerns that people have when looking for work. Lucky for those who are in the field of healthcare, they'll never have to worry about these things. The demand for healthcare workers is always high with plenty of opportunities for job advancement. If you wish to enter the field of care, then you can try to become a nursing assistant.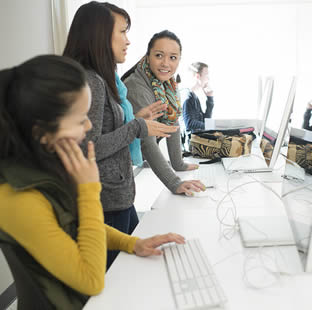 Scope of Work
The job description of a nursing assistant is very wide. Since they are entry-level workers, they are only allowed to do basic nursing and nursing-related care. However, there are certain trainings that nursing assistants can attend to increase their responsibilities and allow them to perform more advance procedures.
Training Process
The facilities that offer nursing assistant classes include colleges, high schools, and even certain health care centers and nursing homes. You have to make sure though that the program is approved by the state's Department of Health before signing up. While enrolled you will perform nursing procedures such as vital signs taking, catheter care, bed baths, NGT feeding, and assisting in daily activities such as toileting, ambulating, exercising, and many more. Since they spend almost all of their working hours in the presence of patients; candidates must undergo proper training that is approved by the state.
CNA training programs will teach candidates the knowledge and skills they need to take care of the patients properly. These programs will also help them handle different situations that they may encounter once they are working full-time in the health field. All training programs are required by the state to last at least 80 hours. Training curriculum must consist of both theoretical coursework and supervised clinical practice, which must be done simultaneously. Students are required to be supervised by qualified CNA Instructors while in the clinical area at all times.
Getting Certified
To work as a full-time or permanent nursing assistant, one must be certified and listed on the state's Nurse Aide Registry. This can be achieved by challenging the competency evaluation exam. You can find a location to take the exams by calling the American Red Cross at 800-795-2350. Frequently testing is held in the same location you went through classes.
This exam was developed to test every candidate's knowledge and skills on how to be a nursing assistant. It is divided into two parts that comprises of a multiple-choice written (or oral) exam and a random skills exam. Candidates who can pass both tests will get a place on the NAR and receive a Registry card.
Maintaining your certification status
Once you get certified, you'll be allowed to work as a certified nursing assistant for two years. During that time, you must work for compensation providing nursing services while under the watchful eyes of a registered nurse for at least one day. If you manage to do that, then you'll be qualified to renew your registration on the NAR through www.pulseportal.com. No CNA is allowed to continue working once his or her name on the registry is removed.
A CNA with a lapsed certification may become eligible to work once more by retaking the competency exams. These exam applicants are only given one chance to pass. They will have to undergo retraining if they fail to pass both parts of the competency exams. Nursing assistants with lapsed certifications from other states may also apply for the PA-CNA exams.
The borough of Waymart is located in Wayne County. As of the last census, they had an estimated total population of 1,341 residents and a population density of 496.7 / sq mile. You can see that the total area of the borough is approximately 2.8 sq miles; only about 0.1 square mile of it is water.
Examples of the health care clinics and the providers that are found in Waymart, PA include Take Care Clinic at select Walgreens, Little Relaxations, Delta Medix PC, First Choice Chiropractic, Mallard Meadows Residential Center, Community Health Concerns, Haley Matthew DO McAndrew Patnck DO, Family Medical Center, and many more. photo attribution: ufv