The nurse aide classes in Washington, North Carolina are listed for you below. Included in the list are all the training courses that are all approved by the state of North Carolina. To receive sign-up information and enrollment dates, contact the facility to speak with a representative.
Beaufort County Community College/Beaufort Campus
5337 Hwy 264 East P.O. Box 1069.
Washington, NC 27889
(252)946-6194
http://www.beaufortccc.edu/
According to the state regulations, all healthcare personnel who work in a nursing home are required to be listed on the North Carolina Nurse Aide I Registry. These personnel include nurse aides, RNs, LPNs, and medication aides. There are three ways to get into the Registry:
1.    Pass a state-approved Nurse Aide I training and the state's competency test.
2.    Directly pass the state's competency test (which is available for nursing graduates).
3.    Directly apply to be entered into the NA I Registry (which is available for North Carolina RNs and LPNs).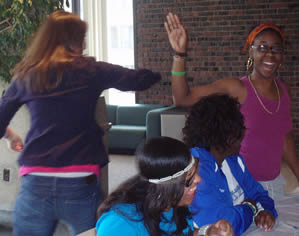 The competency exams consist of a written/oral exam and a skills evaluation on the basic nursing skills that were taught during the training. The results of the exams are released within a few minutes after you take the tests. If there are some technical difficulties, your results will be mailed to you within 5 to 7 business days.  If the nurse aide candidate passes all the tests, his name will automatically entered into the Nurse Aide I Registry.
Every candidate is given three attempts to pass the written/oral exam and another three attempts to pass the clinical skills test. If the candidate fails after the third attempt, he will be required to enroll again and complete a state-approved program before he can retake the test.
A CNAs name is maintained on the Registry for only up to 2 years. To continue the eligibility of being a nurse aide I in the state of North Carolina, the nurse aide must follow a set of criteria set by the Registry. All 4 of the following must be present in order for the work to be qualified:
•    The nurse aide must have worked for at least 8 hours for an approved employer.
•    The nurse aide must have worked as a nursing aide for pay.
•    The nurse aide must have done nursing aide tasks.
•    The tasks mentioned must have been delegated by registered nurses.
This city is the county seat of Beaufort County. You can find this city only a few miles from Greenville. This city was established back in 1776, and was named after the first president of the county. According to the 2010 census, their total population was at 9,744 people. It has a total area of approximately 8.49 sq miles, and a population density of 1,190.0/sq mile. Major roads serving this area include U.S. Route 264, U.S. Route 17 and N.C. Route 32.
Examples of health care centers that you may avail in the area include Inner Banks Urgent Care, Ray G. Silverthorne Crisis Center, Pamlico Urgent Care, Woolard Anita FNP, Carolina Pregnancy Center, Cook Elisabeth MD, Beaufort Mental Health Services, Sovereign Healthcare, Codeexact, and Dream Provider Care Services. photo attribution: create-learning