Aspiring nursing assistants can find schools that are offering instruction in the town of Washington, Missouri that are available for enrollment listed below. By joining a program one can get practice using the skills of the job and gain the knowledge required to pass the competency exams.
Four Rivers Career Center
1978 Image Drive, Washington, Mo 63090
636 239-7777
http://frcc-sdow-mo.schoolloop.com/
If you are planning to become a nursing assistant, you will first need to learn the necessary skills and knowledge that you will be using when you take care of the patients. To do so, it is recommended that you enroll in state-approved CNA classes. These programs will offer you 75 hours of classroom lectures and another 100 hours for clinical duties.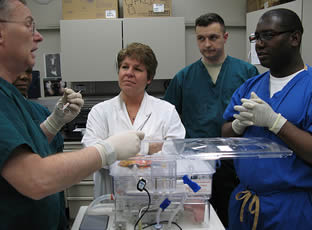 It is possible to avoid taking the training and attempt to challenge the examination. However, to be able to do this you must receive  a letter of approval from the MO Department of Health and Senior Services. you can email them at: info@health.mo.gov, or call them at 573-526-5686 for further information about how to qualify.
For your name to be entered on the NA Registry, you must pass both the written and the skills demonstration exam. If you fail one part of the exams, you may immediately retake the exams if the examiner allows it. For those who are already working as a nursing assistant, they must graduate from a training course and pass the exams within 4 months from the start of their work.
CNA certifications in Missouri only last for up to two years. To remain eligible for work as a nursing assistant, you must renew it before it expires. To do this, you must be able to work at least 8 hours with pay within that time. For those who are working in a licensed nursing, they will also be required to undergo a 12-hour in-service every year.
This city is a part of Franklin County. It is situated on the Missouri River. As of the latest census, their total population has now gone over 13,243 people. Washington, MO is considered as the corn cob pipe capital of the world. It has a total area of 9.0 sq miles and a population density of 2,355.56/sq mile. This city was named after George Washington.
Health care centers that you can find in the area include Mo Foot and Ankle Institute, Patients First Health Care – Family Medicine, Mercy Cancer Care, Fischer Chiropractic Center, Centerpointe Hospital, HealthSouth – Surgery Centers, Washington Surgery Center, St John's Mercy Corporate Health, Crider Health Center Dental Services, Simmons Wellness Center, and Health Systems. photo attribution: armymedicine