The Washington DC State Board of Nursing provides the general public with correct and useful information about nursing and CNA certification and other health related occupations.  If you want to get some significant information about a particular healthcare worker, you only need to visit their online registry to get all the latest information.  The website is also a good source of healthcare resource materials, news, and health information for the public.  There are always new information on the website to enable their residents and citizens to get the best health care services in the state.
DC Nurse Aide Registry
899 North Capitol Street NE, Washington, DC 20002
Contact Phone: 202-724-4900
Alternative Phone: (877) 672-2174
Contact Fax: (202) 727-8471
Contact TTY: 711
Office Hours: Monday – Friday 8:15 AM – 4:45 PM
License Exams: American Red Cross at 1-888-399-7729
Registry Managed by: Pearson VUE
PO Box 13785, Philadelphia, PA 19101-3785
Phone: 888-274-6060
District of Columbia Registry Search
The Board is the institution that is charged with the tasks of providing the regulation and standards in healthcare related issues and activities.  This includes providing standards for nursing and healthcare training education and programs, approval of nursing facilities and hospitals, giving free information about healthcare, and updating the public about recent developments in healthcare.  Their website is dedicated to serving the interests of the public, both as users and providers, in order to provide the best health care services in the state.  If you want to learn about the latest developments or the policies of the state with regards to healthcare occupations, you only have to visit their website.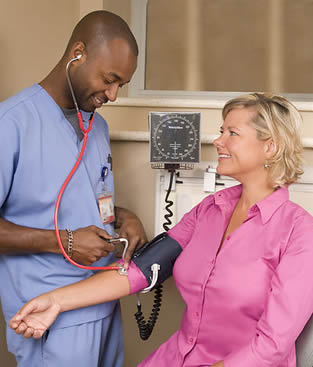 Anyone who wishes to apply as a certified nurse aide for the state of Washington DC, should visit the registry in order to learn more about what is required for the licensure or reciprocity programs of the state.  There are downloadable forms and useful links which will lead you to the appropriate site to answer your inquiries.  You will be taught about the step by step process of acquiring a certification as well as the necessary training and the examination application process.  You will also find a useful candidate handbook which contains sample questions that you may encounter during the test.
Verifying the CNA certification of a worker is also easy through the website's online registry.  By clicking on the appropriate link, you will be led to the search page where you can look for the particular licensee that you need to review information about.  You only need to enter the nursing assistants first name, last name, and certification number in order to get the information that you need.  The search page also allows for a random search by entering only a last name which provides a list of possible candidates.  By clicking on a name, you will get information about their work history and any disciplinary action or complaint which may have been filed against them.
The Washington DC Nurse Aide Registry is a helpful source of information with regards to CNA licensing and application.  You will be guided to links where you can look up different nurse aides and learn about their employment backgrounds and you can also find resources for CNA education and examination for those who are wishing to apply for a certification.  The information offered in the website is available to the general public and can be accessed freely any time and any day of the week.