Interested students can find the available certified nurse aide training being conducted in Warrenton, North Carolina below. Included in the list are all the instructional courses that are approved by the state of North Carolina. For more details such as certification requirements, program length, or cost of classes, contact the school using the number listed on this page.
Vance-Granville Community College/Warren County Campus
210 West Ridgeway Street
Warrenton, NC 27589
(252) 738-3366
http://www.vgcc.edu/
Becoming a nurse aide is the fast track to starting a career in the medical field. A nurse aide helps take care of the patients by providing nursing care that is delegated by registered nurses. The growth in the demand for CNAs is expected to remain strong up to 2016. Because the job demand for this profession is very high, newly certified nurse aides will have no problems looking for work.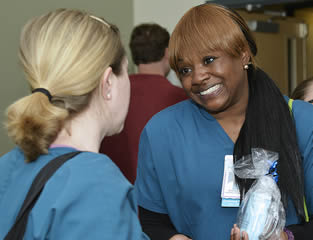 To work as a CNA, one must have a nurse aide certificate and be listed on the Nurse Aide I Registry. Since the state does not accept endorsements, the only way to get into the NAR is to challenge and pass the competency exam. The North Carolina Department of Health and Human Services has contracted Pearson VUE to help in the competency exam. The exam consists of a written/oral exam and a skills evaluation.
Before a nurse aide student is allowed to take the test, one must become eligible by completing a state-approved training course. Nursing students and graduates are also allowed to take the exam without the need for additional training.
A CNA makes roughly around $22,000 in a year. This is greatly influenced by experience and training. If you wish to improve your chances for a higher salary as well as increase your skills and knowledge, you can try to get an advance certification. If you love to focus your career on taking care of the elderly, you can try to be a geriatric aide. To become one, you must complete a state-certified geriatric training course. Once you complete your training, your name will automatically be entered on the GAR.
If you want to increase the scope of your work as a nurse aide. You can train to be a nurse aide II. These CNAs perform more complex nursing skills with great emphasis on sterile techniques in elimination, oxygenation, and nutrition. The certification process is basically the same as getting your nurse aide I certificate. You will need to undergo a state-approved program and challenge the state exam afterwards. For more information on how to be a CNA II, you can visit the North Carolina BON at www.ncbon.com.
This town is the county seat of Warren County. You can find this town on U.S. Route 401 and U.S. Route 158. It was founded back in 1779 and was named after Dr. Joseph Warren. According to the last census, this town had a total population of 811. It has a total area of approximately 0.9 sq miles, where all of it is land.
Health care centers that you can find in the area include Warren County Free Clinic, Triumph LLC, Prodigous Health Services LLC, Williams Angela DR, Warrenton Family Practice Pllc, Omalley Chris DR, Southern Health Partners, and many more like them. photo attribution: westconn