The nursing assistant schools currently offering enrollment to students in Uniondale, New York are all shown on this page. Call the school to get additional details such as classroom schedules, cost of tuition, and program requirements as well as to learn more about the licensure process.
Vocational Education and Extension Board
899-A Jerusalem Avenue
Uniondale, NY 11553
(516) 572-1704
According to the requirements of the New York State Department of Health, all nursing homes and home care agencies must do a fingerprint-based criminal history record check (CHRC) for all their new nursing assistant candidates. This check is to be done before the candidates are allowed to handle the patients.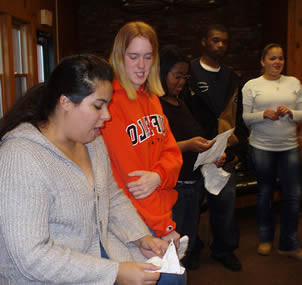 It will be the job of the healthcare facility or the home care agency to get the candidate's fingerprints. The prints will then be sent to the Department of Criminal Justice Services where they will be checked to see if the candidate has committed any felonies within the state. Once the check is done by the DCJS, they will then forward the prints to the FBI so they can be compared with the national database.
If there are any felonies or records that are found during the search, the nursing homes or agencies are required to give the candidate the opportunity to review and give their explanation for the records. If the candidates wish so, they may withdraw their applications without any prejudice from the facility or agency. If they do so, the candidate's records that were obtained will then be destroyed.
It is the job of the health facility or agency to review their records and verify the status of the candidate prior to hiring them. The Nurse Aide Registry of New York is available 24 hours every day. They can go online to www.prometric.com/NurseAide/Ny to verify. They can also call the NAR's Interactive Voice Response at (800) 918-8818. If they wish to talk to a live operator, they can call the number provided and ask for one. The live operators are only available during their working hours which is from 8 a.m. to 5 p.m. Easter time.
For any complaints  about care, you can call the following number below:
•    Home Care and Hospice Complaints – (800) 628-5972
•    Hospital Patient Complaints – (800) 804-5447
•    Adult Care and Assisted Living Complaints – (866) 893-6772
•    Nursing Home Patient Complaints – (800) 206-8125
This is a census-designated place and a suburb of New York City. It is a part of Nassau County and is situated on Long Island. According to the latest census, their total population had reached up to a total of 24,759 people. It has a total area of approximately 2.7 sq miles, where all of it is land. It has a population density of 8,676.5 per square mile.
Examples of health care centers and providers that you can find within the area include DR H Bianca Japal (516) 214-4497, Sound to Sea Healthcare Inc. (516) 229-2683, Alliance Family Medical Practice (516) 486-0094, VIP Health Care Services (516) 292-9300, STD Test Express (516) 704-9690, and many more. photo attribution: create-learning