The school programs for nursing assistants that are found in Union City, Tennessee and are open for enrollment are shown here. To find out more about their training courses, you can call the phone number provided for you or visit the facility in person.
Union City Manor
1630 East Reelfoot Ave.,
Union City, TN 38261
(731) 885-8095
The main process of becoming a nursing assistant involves getting the proper education and training, challenge the certification exam, and get into the Nurse Aide Registry. According to the law, only nursing assistants who are on the NAR are allowed to work in certified nursing homes.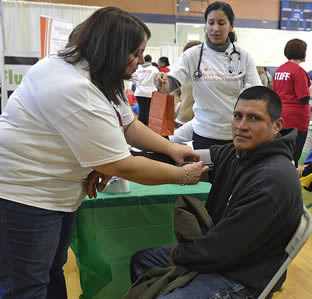 To start your process, you will need to enroll in a training program that is approved by the Department of Health. Certified programs offer a minimum of 75 hours of training which consists of classroom lectures and a minimum of 16 hours of practical training. Before you are allowed to handle any patient, you must first cover 16 hours learning about communication skills, infection control, rights and independence, and safety and emergency protocols.
It can take you an average of 3-4 months to complete your training depending on which program you choose to enroll in. At the end of your training, you will receive a certificate of completion, which you will use to apply for the exams. Before you can take the exams, you must be able to meet some of the other requirements first such as state and federal background checks, school transcripts that show you completed training, and copies of your social security card and photo identification.
A military-trained medic or corpsman can also apply for the exams. When applying, he will have to submit a copy of a DD-214. Unlike other states, Tennessee still requires RNs and LPNs to challenge the certification exam before they can start working as a nursing assistant. To apply they must submit a copy of their transcript of record, as proof of training.
The certification exam was designed to evaluate the competency of a nursing assistant in terms of knowledge and skills. This exam is currently conducted by the Headmaster Testing Service. To get into the NAR, all candidates must pass both exams. The competency test will evaluate you on five of the skills you learned during your class instruction. In general they are fundamental nursing proficiencies such as infection control, emergency procedures, safety protocols, medical terminology, patient rights, communication skills, and resident rights. A failed test means a failed certification exam. Each candidate will be allowed to retake the exams twice.  If you fail after your 3rd attempt, you will have to undergo retraining before you can reapply for the exams.
Another way of getting into the NAR is by applying for reciprocity. This process lets a CNA from another state to transfer his certification from another state to Tennessee. The applicant must have a valid certification and a clean record. Having records of patient abuse, neglect, or being on the Abuse Registry will disqualify the applicant.
Names on the Registry remain only for a maximum of 2 years. You must renew your certification every 2 years to keep your eligibility to work. One of the requirements for renewal is to provide proof that you have worked for at least 8 hours in a certified nursing facility. Private work, work done in a physician's office, sitting, and companion services are not considered as qualified work. For more information, please visit http://health.state.tn.us/hcf/nurseaide.htm#renewals.
This city is the county seat of Obion County. The name of the city was taken from its location, which is at the junction of two railroads that runs though the city. As of the 2000 census, their total population was about 10,876 people. They had a population density of 1,020.1/sq mile. The total area of the city is estimated to be about 10.7 sq miles, where all of it is land.
The Union City Internal Medicine Inc., Jernigan Surgery Clinic, Baptist Memorial Healthcare, Advanced Gastroenterology, Terrell Clinic & Aesthetics, Mental Health Services, Lifeline Home Health Care of Union City, Transitions Health, Raines Foot Clinic, Renal Care Group, and Woman's Clinic of Union City are examples of the health care clinics that are located in the city. photo attribution: westconn