The certified nurse aide training centers available for enrollment as of the moment in Twenty-Nine Palms, California are all found here. Contact the program administrator to ask additional questions about how to enroll.
Morongo U.S.D
Mailing Address: P.O. BOX 1209 Twenty-Nine Palms, CA 92277
5715 Utah Trail, 29 Palms, CA 92277
(619) 367-9191
Website: http://www.morongo.k12.ca.us/
One of the best ways to start a career in the field of health is to become a nursing aide. Before you can start working as one, there are several requirements that you must meet like completing an approved training program and challenging the certification exam.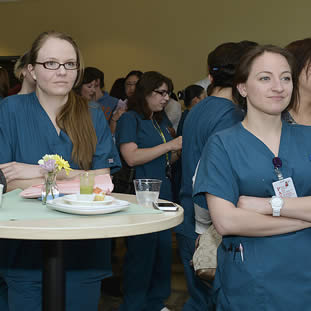 Training programs in the state of California are offered by different training institutions and schools like nursing homes, hospitals, assisted living centers, technical and vocational schools, government organizations, and community colleges. The program has to be approved the state to make you eligible to take the competency exam. To ensure a course is state licensed you can contact (TPRU) at (916) 552-8873 which is the Training Program Review Unit.
To be accepted into a program, you must meet the following conditions:
•    Be at least 18 years old
•    Have a high school diploma or a GED certificate
•    Be physically fit and complete all necessary immunizations
•    Be able to pass the federal and state criminal background checks
•    Be able to speak and understand basic English
Training programs are required to offer 150 hours of training, which consists of lectures and clinical practice. They are also required to teach 16 different modules that will cover topics like:
•    Patient's Rights
•    Communication skills
•    Vital Signs
•    Nutrition
•    Body Mechanics
•    Personal Care
•    Basic Nursing Procedures
•    Safety and Emergency Care
•    Long-term Care Patients
•    Mental Health
•    Weights and Measurements
By completing an approved training program, you will become eligible to apply for the certification exam. Taking the exam is a necessary step since you can only work in a state-approved healthcare facility if you are certified as a nursing aide. The certification exam is divided into two parts – the knowledge test and the skills test. Candidates who are able to pass all the tests will receive a CNA certificate from the ATCS.
Employers are required to check each applicant's certification before hiring them. They can verify every application by calling the ATCS at (916) 327-2445 or by going online at http://www.apps.cdph.ca.gov/cvl/SearchPage.aspx. If you want to check your own status as a nursing aide, you can also visit the link provided.
Unlike some states, CNA certifications in California are only valid for 2 years. Nursing aides must work for at least 8 hours while under the supervision of a registered nurse and complete 48 hours of in-service training or continuing education to be eligible for renewal.
If you fail to renew your certification, it will expire and you will lose your eligibility to work as a nursing assistant. Expired certifications can only be renewed by challenging a competency evaluation exam. A certification that has expired for more than 2 years can no longer be reactivated. For more information, please follow this link: http://www.cdph.ca.gov/certlic/occupations/Documents/How-to-Renew-Your-Cert.pdf.
If you already have a license that was issued from a different state, you can apply for reciprocity at the CA Nurse Aide Registry. To learn more of the process necessary to become certified you can call the registry at (916) 327-2445 or email them at cna@cdph.ca.gov.
Twenty-Nine Palms or 29 Palms, as most people call it nowadays, is a part of the San Bernardino County. As of the census that was done last year, their population has now grown over 25,048. This city has a total land area of 59.1 square miles and a population density of 423.5 people per square mile. You can find the Joshua Tree National Park and Park Headquarters, and Marine Corps Air Ground Combat Center within the city.
Health clinics or facilities that are situated within the city include Hi-Desert Family Health Center (760) 367-5906, Family Health Center of Joshua Tree (760) 366-7555, Morongo Basin Mental Health (760) 369-3130, and Pacific Clinics (760) 228-9657. photo attribution: westconn