The schools providing nursing assistant classes in Thomasville, North Carolina are shown to you on this page. Those who are eligible and are able to complete the required training hourly will be allowed to take the license exams to become listed in the state registry. Interested applicants should speak to a course administrator to learn more.
Davidson County Community College
297 DCCC Road,
Thomasville, NC 27360
(336) 249-8186
http://www.davidsonccc.edu/
The initial certification as a nursing aide in North Carolina will get your name on the Nurse Aide I Registry. The certification process for this Registry includes completing the state-certified 75-hour training course and passing the NNAAP exams, which are conducted at an approved testing site by Pearson VUE.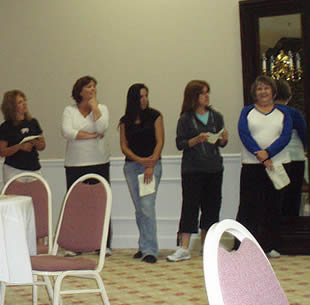 The exams consist of a written and a clinical skills evaluation of the basic nursing skills that are taught to nurse aide I candidates. The written examinations can also be replaced with an oral exam which is offered in English and Spanish. If you wish to have the oral exam, you must indicate the request when you apply to take the tests. After each portion of the tests, the score reports are received approximately 10 minutes after the nursing aide evaluator faxes the tests for scoring. There are some occasions where the results may not be released on the same day due to technical difficulties. If so, the results will be mailed to you within a week form the exam date.
Once you pass all the tests, you will receive your CNA certificate and will be allowed to work as a nursing aide in a North Carolina nursing facility. The tasks that a nursing aide I is allowed to do mainly involves personal care, body mechanics, nutrition, elimination of urine and bowel, promotion and maintenance of safety and independence, and special procedures such as monitoring vital signs, taking the height and weight of the patients, and doing coughing and breathing exercises.
If you want to further your certification, you can aim to become a nursing aide II. Like a NA I training program, the nursing aide II training programs consists of classroom, laboratory, and clinical modules. At the end of the training, you will also be tested in both skills and knowledge before your name is entered on the Nursing Aide II Registry, which is operated by the N.C. Board of Nursing.
Since a nursing aide II certificate is an advance certificate, there are procedures that a nurse aide II may do. For example, the tasks that a nursing aide II does can now include activities involving in oxygen therapy, sterile dressing care that includes wounds that are over 48 hours, fluid-assistive activities, nutrition activities, suctioning, tracheostomy care, wound irrigation, and elimination procedures.
This city is a part of Davidson County. According to the 2010 census, their total population has reached up to 21,354 residents. This city is well known for its furniture industry. Nearby places of this city include High Point and Lexington. Thomasville has a total area of approximately 11.1 sq miles, where all of it is land. Its population density is 1,775.2 people per square mile. This city is commonly called as "Chair Town or Chair City" due to the giant replica of the Duncan Phyfe armchair that is found at the center of the city.
Examples of health care centers and providers that you can find in this area include Providence Health Care Inc., HealthLink, Health One Chiropractic, Jackson Clinic of Chiropractic, Deang Cedric R MD FACS, Providence Senior Care, Arcadia Health Care, STD Test Express, and many more. photo attribution: create-learning