The assortment of certified nurse aide training classes that are found in Sheridan, Wyoming are described below. We've included school contact information such as phone, fax, and email so that you can those who have questions may easily ask them. All programs listed below, are approved by the Board of Nursing to offer NA training.
Sheridan Manor
1851 Big Horn Ave,
Sheridan, WY 8201
Phone: (307) 674-4416
Fax: (307) 674-5814
Email: dlconaway@savac.com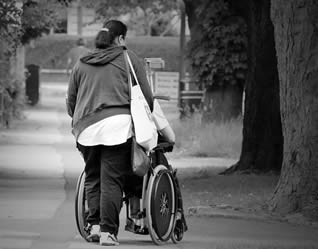 NWCCD Outreach-Sheridan High School
1056 Long Drive
Sheridan, WY
NWCCD Outreach – Sheridan College
3059 Coffee Avenue,
Sheridan, WY
Contact Information:
Sheridan College
PO Box 1500
Sheridan, WY 82801
Phone: (307) 674-6446
Fax: (307) 673-1641
Email: ppukett@sheridan.edu (for HS program)
kstclair@sheridan.edu (for college program)
Getting a CNA certification is Wyoming is a good way to enter the field of healthcare. This way lets those who wish to enter the field start a career without spending too much time or money. Compared to other careers recently, this profession is among those with the highest demands all over the country. To work in a care facility, one will need to pass state-approved programs, undergo background checks for criminal records, and show their knowledge and skills by passing the CNA license exams.
Completing a CNA training program is a requirement to establish eligibility to apply for the  exams. The program must be approved by the state's Board of Nursing to qualify. Approved programs last 105 hours; which 75 hours are allocated for lectures and another 16 hours are for supervised clinical practice. Training programs in this state usually cost from about $600-$2,000 depending on the training facility. Many of the training programs offer grants for those who have financial issues.
A person who is currently employed by a certified long-term care facility may not need to pay for training and testing costs. Charges will be paid for by the employer. Those who can find work within 12 months after getting certified can get full or partial reimbursement from their first employers if they meet the requirements.
CNA training may be skipped if the applicant was able to complete one semester of a nursing school that's approved by the WSBN within the last 24 consecutive months. Applicants will need to show proof of their training by providing a copy of their transcripts when they apply. Applicants are encouraged to contact the WSBN at (307) 777-7601 to get the complete requirements.
The CNA exams may either consist of a written or oral exam and a manual skills demonstration. Exam applicants are given 12 months after completing their training to pass both these tests. If they should fail, they are allowed to re-test up to 4 times within the year. When re-testing, they'll only be required to retake the tests they failed.
Certification Fees:
• NAR Application Fee: $60
• DCI Background Check Fee: $60
• Knowledge and Skills Exam Fee: $98
• Written/Oral Exam only (Retest): $33
• Skills Evaluation only (Retest): $65
All payments must be in the form of a money order or a cashier's check. Cash, personal checks, and the use of credit cards, are not accepted. Sent applications with no payment fees included are considered incomplete and will not be processed.
CNA certifications in this state expire at the same time: on December 31st of every even year. Certificate holders must work a minimum of 16 hours and complete 24 hours of in-service training to qualify for renewal. No employee is allowed to continue working with an expired certificate. If one fails to renew on time, he or she may still renew it by paying a penalty fee of $35.
The city of Sheridan is a good place to start working as a certified nurse aide. This is a city that has a total area of 10.95 square miles and is the seat of Sheridan County. The census of 2012 showed that it had a total population of 17,698 people. With 25% of the people aged from 45 to 65 years old and another 16.9% that are older, it is no wonder the one that a good deal of the economy is centered around health care.
The Big Horn Mountain Medicine, VA Medical Center, and Sheridan Memorial Hospital are three of the biggest hospitals within the city where one could practice being a certified nurse aide. One can also find several nursing homes in Sheridan such as the Sheridan Manor, Westview Health Care Center, and Green House Living. If you do not wish to work in the city, you can always find work in other places in Wyoming. You can also apply for endorsement if you want to work as a CNA in another state.