Certified Nurse Aide/Assistant training centers that are offering their classes in Shepherdstown, West Virginia are found in detail here. If you know of other programs, you can send them to us and we will add them to the page.
Canterbury Center
Rt. 1 Box 5,
Shepherdstown, WV 25443
(304) 876-9422
One of the best ways to start a career in the field of health today is to become a nursing aide. Nursing aides work under the supervision of registered nurses. They help provide and maintain nursing care to patients who are in different healthcare settings, including the patient's own home.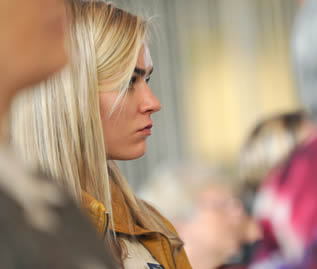 A CNA certification is a requirement to work as a long-term nursing aide. If you had never been a certified as a nursing aide before, then your only choice is to pass the State competency exam. This exam consists of a multiple-choice written/oral test and a skills evaluation exam. Candidates must pass both tests to get a certification. The competency exam is only available to individuals who successfully passed a state-approved training course.
One of the best ways to qualify for the competency exam is to enroll in a state-approved Nurse Aide Training and Competency Evaluation Program (NATCEP). Compared to other courses and programs, you can establish your eligibility much faster through this route. Approved training programs consist of 120 hours of training. The hours consist of 65 hours of classroom and lab work, and 55 hours of supervised clinical practice. It can take you 1 to 6 months to complete your training depending on the program you choose.
You can avoid completing a NATCEP if you had successfully completed the Fundamentals of Nursing as a nursing student or graduate. You must also have 32 hours of clinical experience working in a Medicaid/Medicare training facility to qualify. Registered nurses and licensed practical nurses are also allowed to apply without the need for further training.
A candidate who is already working – or who is about to work ¬– in an approved Medicaid/Medicare healthcare facility prior to the start of training can train and test for free. All expenses must be paid by his or her employer. A nursing aide who finds work within 12 months after getting certified can get reimbursed for both training and testing fees. It is important that students/candidates keep their original receipts to get a proper reimbursement.
The names of all certified nursing aides are added to the Nurse Aide Registry. Employers are required to check the names of each applicant before hiring him or her. If you want to check your status as a CNA you may do so by accessing the NAR website at www.wvdhhr.org/ohflac/NA.
Shepherdstown is a town that is located in Jefferson County. It is situated along the Potomac River. This town is considered to be the 2nd oldest town in the entire state of West Virginia. As of the 2010 census, their total population had reached up to a total of 1,734 residents. The total area of this town is estimated to be about 0.4 square miles, where all of it is land.
Health care centers that are serving this town include Genesis Healthcare, Urology, Medexpress, Good Samaritan Free Clinic, Eastern Pan Handle Free Clinic, Community Networks Inc., Center For Ortho Excellance, Shenandoah Community Health, and plenty more. photo attribution: ufv