The training available to become a certified nurse aide in San Pablo, California is listed below and includes the program address and phone number. We were only able to find one listing for classes for San Pablo as of the writing of this post. If you know of any other state authorized CNA courses, please submit them for inclusion on this page.
Contra Costa College
2600 Mission Bell Dr.
San Pablo, CA 94806
(510) 235-7800
You can never go wrong with work in the field of health as a healthcare provider. No matter what the condition of the economy is, there will always be a need for healthcare providers. If you have been thinking about changing careers, then why don't you train and become a nursing aide.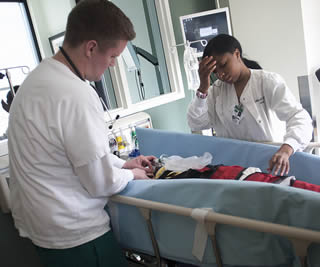 Nursing aides work under the supervision of licensed nurses. They help provide nursing care to patients who are living in different healthcare facilities. Nursing aides are entry-level professionals and are currently very in demand throughout the country.
We know that changing careers can sometimes be costly, but because of the high demand there are now numerous scholarships that you can apply for. You can also aim to train in a CNA program that is offered by the American Red Cross. The Red Cross Organization can be found across the state. They are also approved by the Aide and Technician Certification Section to offer a program.
Nursing assistant training in Red Cross consists of 160 hours. Like others, their curriculum consists of both theory and practical training. As a student you will learn different the basic nursing skills and concepts such as infection control, mental health, communication skills, personal care, and many more.
Requirements to enroll in a Red Cross CNA Program:
•    Age: at least 16 years old
•    Education: must have reached at least 5th Grade
•    Health: be able to pass a physical examination and have a negative TB test result
•    English: must be able to speak and understand English
•    Background Record: must pass the criminal background checks with fingerprinting
How to Register:
•    Go to http://www.redcross.org/ca/san-francisco/take-a-class/certified-nurse-assistant-training.
•    Complete all the forms and send them to the address provided
•    Include a $250 non-refundable deposit
After completing your training you will become eligible to apply for the National Nurse Aide Assessment Program examination or NNAAP exam. This is a two part test that consists of a multiple-choice knowledge exam and a practical skills evaluation. Those who will pass both tests will receive a CNA certificate issued by the Aide and Technician Certification Section of the Licensing and Certification Program.
Once you have a nurse aide certificate you will be allowed to work as a nursing aide in a state-approved nursing facility for two years. If you wish to continue your career as a nursing aide you must renew your certification before it expires. The ATCS will send you a notice at least 4 months before your certification exam. To qualify for recertification you must work, for compensation, for at least 8 hours and complete 48-hour of in-service/CE from a CDPH-approved training facility.
The city of San Pablo CA resides within Contra Costa County and is surrounded by the city of Richmond. The town has a current population of 29,139 . Some of the health care providers in town are Doctor's Medical Center, Vale Healthcare Center, Creekside Health Care Center ,  and the Brookvue Care Center. photo attribution: codnewsroom