The nurse aide training centers in North Providence, Rhode Island that are open for you to enroll in are all on this page. To find out more about their class programs, you can call the number provided below and speak to an official from the facility.
Golden Crest Nursing Center
100 Smithfield Road,
North Providence, RI 02904
(401) 353-1710
http://www.goldencrestnursingcentre.com/
If you wish to become a CNA in Rhode Island, you will need to enroll in a training school that provides the necessary skills training you will need to pass the certification exam, and more importantly the individual needs of the patients. You can only work as a long-term nursing assistant if you are certified.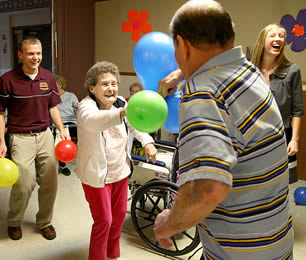 Get the training that you need
Working as a nursing assistant has been gaining popularity among those who wish to have a career in the field of medicine. Because of this popularity, numerous healthcare institutions and training facilities are now offering nursing assistant training. You can find a suitable program offered through:
–    Hospitals
–    Nursing Homes
–    Assisted Living Centers
–    Community Colleges
–    Technical Schools
–    Vocational Schools
–    Government Organizations
–    Rehabilitation Centers
We listed on this page all the training programs that are currently approved by the state. If you found one that's not on our list, just make sure that their program/curriculum is approved by the Rhode Island Department of Health before you enroll.
CNA programs in this state are required to offer at least 100 hours of training, which already includes 20 hours of practical training. However, the majority of the programs in the state offer at least 88 hours of classroom training and an additional 32 hours of clinical practice under the supervision of a registered nurse.
Taking the State Exams
After your theoretical and practical instructions, you may apply for the written and skills competency exam. With the written test you will be judged on your ability to take on the duties of the job and test your knowledge of the state and federal health care procedures. The manual skills tests will challenge you to successfully demonstrate the basic nursing procedures that a nursing assistant is allowed to do. Successfully passing these tests will mean that you have earned your right to get your name entered into the Nurse Aide Registry and receive a certificate.
Nurses and LPNs route of getting certified
If you are licensed nurse or a licensed practical nurse, you will no longer be required to take the state exams for your name to be entered in the state's Nurse Aide Registry. When you apply for the registry, you will only be required to pay the registration fees and provide proof of your training and education.
North Providence is a town that is located in Providence County. This town is known for being the smallest community in the entire state, which is also the smallest state in the country. It only has a total area of 5.8 sq miles, where almost all of it is land. During the 2010 census, their total population had reached up to a total of 32,078 people with a population density of 5,627.7/sq mile.
Health care providers that are serving this town include Interim Health Care Services, American Safety Programs and Training Inc., North Providence Medical Services, Psychiatric Health Services Inc., Roger Williams Senior Health Care Associates, Corporate Care, Rhode Island Foot Care, Fatima Hospital Lab Service, Saint Joseph Hospital Cardiology Foundation LTD, and many more. photo attribution: jmsmith000