The CNA training classes in Medford, Oregon are all listed for you on this page. Included on the page are details of the nurses aide classes such as contact numbers. For more information on how to become a nursing assistant, tuition fees or program requirements, just contact the number provided.
Asante Health System
2825 East Barrett Rd., Medford, OR 97504
(541) 789-4100
http://www.asante.org/
[Level 2 Nurse Aid Programs Available]
Hearthstone Nurse Aide Training
2901 East Barnett Rd.,
Medford, Oregon 97504
(541) 779-4221
http://www.pinnacle-healthcare.com/
Medford Rehabilitation & Healthcare Center
625 Stevens St.
Medford, OR 97504
(541) 779-3551
www.medfordrehab.com
jmorgan@rouguecc.edu
Rogue Community College
202 South Riverside Ave.,
Medford, Oregon 97501
(541) 245-7500
http://www.roguecc.edu/
Waterford at Three Fountains
835 Crater Lake Ave.,
Medford, OR 97504
(541) 773-7717
The opportunities for nursing assistants in the field of health are continuously on the rise. This rise is thought by many experts to continue to increase up to 2016. If you want to enter the field of healthcare, this is the perfect time for you to do so.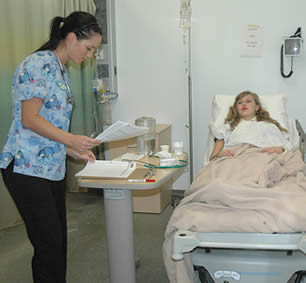 To work as a nursing assistant in Oregon, you must first get certified. You can get a level-1 nursing assistant certificate by passing the competency evaluation program exam. This however, is only available for those who are eligible to take the exam. Eligibility can be established by completing an OBSN-approved training program, graduate from a nursing school, or train in a certified program in another state.
Nursing assistants are also known as nursing aides or nurse aides. These individuals work under the supervision of a licensed nurse. They help the nurse in providing nursing care to the patients. The tasks that a nursing assistant can do however are only limited. Their tasks mainly focus on basic care, assisting in the patient's activities of daily living, taking vital signs, promotion of safety, and assisting in certain emergency procedures.
If you want to further your knowledge and skills, you can train to become a CMA or a certified medication aide. These are CNAs who are trained to give the patients non-injectable medications such as oral medication, inhalers, patches, ointments, eye medications, and other forms of medicines.
To be a certified medication aide, you must enroll in an approved CMA training course. You can find a complete list of courses at: https://osbn.oregon.gov/OSBNOnlineReports/default.aspx?ReportName=OregonApprovedTrainingPrograms. Before you are given your license, you will have to pass anther competency exam.
Registered nurses and licensed practical nurses may work as a CMA if they apply for the CMA Registry. RNs and LPNs are allowed to directly apply without the need for additional training and testing. For more information, please call the Nurse Aide Registry at (971) 673-0685.
The city of Medford is a part of Jackson County. According to the latest census, their population has now reached up to 74,907. It is also the 4th largest metropolitan area in Oregon. Medford is also the county seat for Jacsion County. It has a total area of 21.7 sq miles where all of it is land and a population density of 2,910.5 / sq miles. You can find this city near the Rogue River and the Agate Lake. Nearby cities include Grants Pass, Klamath Falls, Ashland, and Roseburg.
Examples of health centers in the area include Valley Immediate Care LLC, Southern Oregon Chiropractic, Medford Medical Clinic, Valley Immediate Care South, Alftine, Christopher D, Wellness 2000 Inc, Community Health Center, and Medford Women's Clinic LLP. photo attribution: ufv