Vocational facilities found in Mauldin, South Carolina that are providing nursing assistant classes at this time are shared below. These training programs are approved by the state of SC Department of Health and Services. Call to speak with a school director about how to enroll.
Health Tech NATP
400 C South Main Street
Mauldin, SC 29662
864-757-9922 or 864-607-8756
According to the Nursing Home Reform Act, all individuals who want to become a nursing aide must be certified in order to work in a long term care facility. The only way to become certified is by getting on the Nurse Aide Registry. To do this, CNA candidates must challenge the certification exam.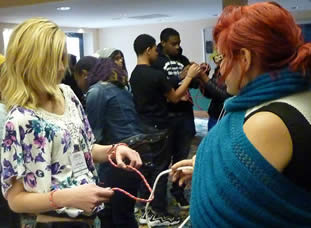 The South Carolina Department of Health and Human Services has authorized Pearson VUE to help develop, score, and release the results of the exam. This testing company will be working closely with NACES in the administration of the exams at approved testing sites. The exam consists of 70-item written test and a skills evaluation. For those who have trouble reading English, they may take the oral test instead.
In order to get an oral test, the candidate must make the request and send it along with the rest of the application requirements. Please note that there is no additional charge. Pearson VUE also complies with the provision of the Americans with Disabilities Act, so if you need special accommodations, the requests should also be sent during this time along with proper documentation of your condition.
Before applying for the exams, candidates must first complete a 100-hour training course that is approved by the state's DHHS. Nursing students and LPN graduates may also apply directly for the exam, as well military-trained medics. Medics are on a case to case basis. To determine if they are eligible, they will need to send a copy of their training and experience to scnar@scdhhs.gov.
If the candidate is able to pass all the tests, his name will be entered into the NAR. Names in the listings remain for up to 2 years. To keep your certificate valid, you must work as a paid nursing aide for at least 8 hours. Pearson VUE will send out the renewal forms at least 1 month in advance. The forms can also be downloaded by going to http://www.asisvcs.com/publications/pdf/074103.pdf. There is also a renewal fee of $28 that must be paid in the form or a money order, cashier's check, or a company check. For those who are working for a Medicaid nursing home, the renewal fee will be paid by the employer.
This city is situated in Greenville County. It is also included in the Greenville–Mauldin–Easley Metropolitan Statistical Area. It has a total area of about 8.6 square miles, where all of it is land. Its total population was about 15,224 at the last census. It has a population density of 1,767.1/sq mile.
Examples of health care centers that you can find in the area include Diabetes Care Club, Trusted Hands, Alkema, Donald R DPM, Chiropractic Center, ABC of Health, Birthright of Greenville, Taylor-Made Eyewear, Foot Clinic of South Carolina, Families First Family Medicine, and many more. photo attribution: create-learning