Educational facilities in Kingstree, South Carolina that offer certified nurse aide training are shown in detail on this page. For more information about enrollment in one of these programs, course schedules, or the cost of tuition, please call the number that is provided below.
Kingstree Senior High School
615 Martine Luther King Avenue
Kingstree, SC  29556
843-355-6525
Williamsburg Technical College
601 Martin Luther King Jr. Blvd
Kingstree, SC  29556
843-355-4138
If you want to start a career in the medical field, you should consider becoming a nurse aide. A nurse aide is an individual who works, for compensation, by providing nursing and nursing related care to the patients. They work under the supervision of a registered nurse. The tasks that a nurse aide does are based on which task is delegated by the nurses.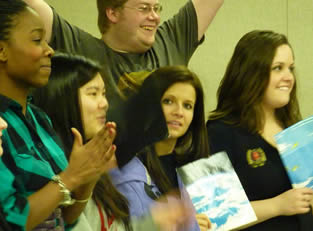 To work as a nurse aide, you must be certified by getting admitted into the Nurse Aide Registry. If you have no previous training in the field of health, then your certification process will begin with you enrolling in a state-approved training program. In order for you to function properly as a nurse aide, you must first learn the proper ways to do so. Your training will consist of theories and practical training.
Once you are done with your training, you can then apply for the certification exam. This exam will test both your knowledge and skill in two separate exams. If it is your first time to take the exams, you will be required to take both the written/oral test and the skills evaluation exam. To be certified, you will need to pass both exams within 3 attempts and within 2 years after completing our training.
You can acquire an application form by going to www.pearsonvue.com or by calling (800) 279-3517. Aside from the application form, you must also provide proof of your training such as your certification of completion of training, transcript of records, or diploma. If you wish to take an oral exam instead of a written one, you must also send the request along with the other requirements. All documents, including the payment of the testing fees ($101) must be placed in a single envelope and sent to:
NACES Plus Foundation Inc.
8501 North Mopac Expressway, Suite 400
Austin, Texas 78759
Both portions of the exam are given on the same day. If there are no technical problems, the results will also be given within 10 minutes after the exams have been sent for scoring. If you pass all the tests, your results will be sent to Pearson VUE and your name will be added to the SCNAR. Pearson VUE will then mail your CNA card to your address within a few days after passing. Once you are certified, you will be allowed to work in a Medicaid nursing home for up to 2 years.
For more information about becoming a nurse aide please visit this link: http://www.asisvcs.com/publications/pdf/074110.pdf.
This town is the county seat of Williamsburg County. It has a total population of about 3,328 during the 2010 census. Kingstree has a total area of approximately 3.2 sq miles, where all of it is land. Its population density is 1,113.4/sq mile.
Examples of health care centers and providers that you can find in the area include Drucker Drugs, Trefny Frank A MD, Grossman David F DMD Dentist, Williamsburg Regional Hospital, Carolina Eye Care, Wallace Chiropractic Center, Wates Lucius F DR DMD, Stephanie's Massage Therapy, Pee Dee Foot Center, Corey Stephen V Dpm, and many more. photo attribution: create-learning