The state approved nursing assistant classes in Idaho Falls, Idaho that are open for you to join are listed below. Call the phone number for the school to get up to date information about enrollment details, cost of tuition, and required curriculum.
Eastern Idaho Technical College
1600 South 25th East
Idaho Falls, ID 83404
(208) 524-3000
Website: http://www.eitc.edu/
The only way you can work in the state as a CNA is if you pass the license exams and get your license. Before you are allowed to take on the exams, there are several requirements that you must comply with. Among them, the most important are finishing a training program that is approved by the state and passing the background checks. These background checks for criminal records are done at both federal and state levels. They are done to protect the interest of the patients and residents. In addition applicants must submit an application, fingerprint card, TB test results, and immunization proof. Completing a course will make you eligible to apply for the license exams. Those who enrolled in nursing courses are also welcome to apply for the license exams, provided that they have completed one semester and covered the fundamentals of nursing, as well as experienced sufficient amount of clinical skills training and duties.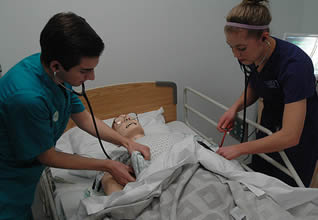 After passing the exams, your name will be entered in the state's Nurse Aide Registry. You have to maintain this status to be able to apply for work as a nursing assistant in the state. License holders are also welcome to work here by applying for reciprocity. When they apply, they should have a valid license and a good relationship with their state.  To find out more about how you can qualify to take the certification exams you can contact the Idaho Registry at (800) 748-2480 or their local number at 334-6620) or email them: mailto:IDNAP@dhw.idaho.gov.
This city is the county seat of Bonneville County. It is the largest city in the eastern part of Idaho. and is a part of the Idaho Falls, Idaho Metropolitan Statistical Area. According to the census of 2010, their total population had reached up to a total of 56,813 people. Its population density is estimated to be 2,972.2/sq miles. It has a total area of about 17.4 sq miles, where only 0.3 square miles of it is water.
Examples of health care centers and providers that you can avail in the city include The Pediatric Center, Idaho Falls Pediatrics, Idaho Falls Clinic PA, Ammon Medical and Urgent Care, Teton Women's Health Center Obstetrics & Gynecology, REDICARE, Community Council Of Idaho, Community Care – Idaho Falls, Alternative Health Clinic, Community Care Urgent & Injury Center, and Eye Clinic Of Idaho Falls PA. photo attribution: ufv