The nurse aide training in Happy Valley, Oregon is shown to you on this page. If you want to know more about their classes, such as the enrollment requirements, tuition costs, schedules, or their course curriculum, you can call the school, visit their location, or send them an email.
Quick! Nursing Assistant Training
11875 SE 129th Ave.,
Happy Valley, Oregon 97086
503-709-6560
lyn.chase@quickcna.com
http://www.quickcna.com/
According to the OBRA of 1987, all nursing assistants must be registered and certified to be able to work in a nursing home or a long-term care center. A nursing assistant is an individual who works under the supervision of a registered nurse and takes care of the patients by providing nursing and nursing-related care to the patients.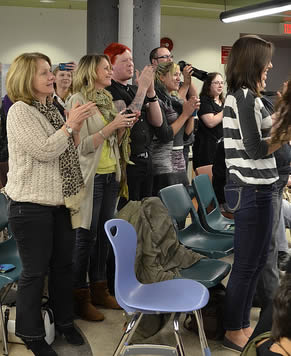 The certification process for a nursing assistant in Oregon starts by enrolling in a nursing assistant 1 training program that is approved by the Board of Nursing. These programs are required to use the curriculum that the Board was created (http://www.oregon.gov/OSBN/pdfs/policies/nacurr_1.pdf). To complete a program, you must meet the 75 hours of classroom lectures, 75 hours of clinical duties, and pass the final exams.
Once you complete the training, the next step for you is to apply for the state competency evaluation exam. This exam is designed to test you in both skills and knowledge. In order to get your name entered on the Nurse Aide Registry and your license, you must pass all the tests. You must pass all the tests within two years from the completion of your training. If you fail, you will be given another 2 attempts to pass.
If you pass all the tests, you will receive your license within 10 days from your exam date. Your license and status on the Registry will remain valid for up to 24 months. To maintain your status and be eligible for renewal, you must work as a paid nursing assistant under the supervision of a registered nurse for a total of 400 hours.
Getting a nursing assistant 1 license is only a stepping stone for this career path. If you want to further your knowledge and training, you can enroll in a state-certified nursing assistant 2 training program. Since there are three classes of CNA 2 (acute care, restorative care, dementia care), you will also  have to choose which category you want to train in. You can also train in all three curriculums if you want. To become a nursing assistant 2, you will also have to pass the corresponding competency exams. If you want to know what the content for each curriculum is, you can visit this site: http://www.oregon.gov/OSBN/Pages/CNA_InformationPage.aspx.
This city is part of Clackamas County. As of the latest census, their population is now around 4,519 with a population density of 1,674.2/sq miles. They have a total area of 2.7 sq miles where all of it is land. This city was originally named or called as Christilla Valley. It is considered one of the fastest growing cities in the state of Oregon. It is boarderd by places such as Portland, Clackamas, Damascus, Pleasant Valley, and Sunnyside.
Examples of health care centers in the city include Encompass Urgent Care (503) 658-1777, Jenkins Terry Psyd (503) 786-2171, Crone Paula M DO (503) 239-7030, and East Portland Surgery Center (503) 772-6160. photo attribution: ufv