The nurse aide schools in Frederick, Oklahoma shown here include all the colleges, high schools, and community training programs currently offering programs for enrollment. to learn more about the classes being conducted call one of the facilities to speak with a course director.
Great Plains Technology
2001 East Gladstone Ave.,
Frederick, OK 73542
(580) 335-5525
(CMA classes are also being offered here)
Becoming a nursing assistant in the state of Oklahoma is an easy task if you know what to do. The first step is to enroll in a CNA training program that is approved by the state. There, you will learn all the things that you will need so that you can take care of the patients properly. You will be spending a few hours on both lectures and skills training. After completing the program, you can then try to apply for the state exams.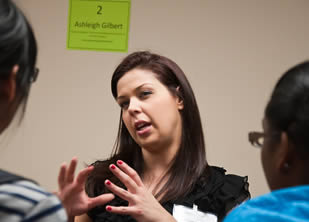 To work as a CNA in Oklahoma, you must be on the Oklahoma NAR. One of the main ways to get into the NAR is by passing the competency exam. It is conducted by the Headmaster Testing Service and is only available for those who were able to complete a state-certified CNA training course, or those who were able to enroll in or complete a nursing education program.
The first part of the exam is the knowledge test. The written test has 72 multiple-choice questions that must be answer in 90 minutes. It will cover different categories that were all required in the OBRA regulations. The subject areas will include:
•    Safety
•    Infection control
•    Personal care
•    Mental health
•    Resident rights
•    Communication
•    Care impaired
•    Basic nursing skills
•    Roles and responsibilities of a nursing aide
•    Data collection
•    Growth and development of an older adult
•    Disease process
An oral exam may also be taken instead of the written exam. This is a big help for those who may have some problems with written English. For those who want to take the oral exam, they must submit a request along with the other required documents for the application. Please take note that there will be additional charges for those who will request the oral exam.
The second part of the exam is the skills evaluation. Candidates will be required to perform 5 nursing skills in front of a nurse aide evaluator. One of the nursing skills will always be proper hand washing. You can find a complete list of the skills that may come out in the exam in the Candidate Handbook (http://www.hdmaster.com/testing/cnatesting/oklahoma/okformpages/okforms/OKCandidateHandbook.pdf). Candidates will be given a maximum of 35 minutes to perform all the skills. To pass this part, you must perform all the skills with 80% proficiency.
If you are able to pass all the tests, your results will be sent to the Oklahoma State Department of Health. Once they receive it, they will enter your name on the Registry. You can check your record by going online at http://www.ok.gov/health/pub/wrapper/naverify.html. The exam results will also be mailed to your address.
Oklahoma also offers reciprocity to CNAs from other states. When they wish to apply, they will need to complete the application forms and provide proof of their certification and experience. They will also be asked to undergo and pass the national background check for criminal records.
The city of Frederick is the county seat of Tillman County. This community was originally an agricultural town with products like wheat, cattle, and cotton. According to the census of 2010, their total population was around 3,940 residents. It has a population density of 800/sq mile. You can find that this city has a total area of approximately 4.9 sq miles, where almost all of it is land.
Health care centers and providers that are available to you in the city include Take Care Clinic at select Walgreens, Frederick Clinic, Southwestern Youth Services Inc., Professional Counseling Solutions, Memorial Hospital & Physician Group – Family Medicine Outpatient Services, Du Toit Francois MD, Stacey Kendra Arnp, and many more. photo attribution: ufv