The certified nursing assistant classes in Forth Worth, Texas that are shown here have all the information that you need to be able to become a nursing assistant in Texas. For any questions, please call the number provided below.
Dunbar Area Community School
5700 Ramey Ave.,
Fort Worth, TX 76112
(817) 496-7422
North Texas Institute for Career Development
4005 Campus Drive,
Fort Worth, TX 76119
(817) 332-7866
Tarrant County College
5301 Campus Dr.,
Fort Worth, TX 76119
(817) 515-8223
Cityview Care Center CNA Program
5801 Bryant Irvin Rd.,
Fort Worth, TX 76132
(817) 346-3030d
Wedgewood Nursing Home
6621 Dan Danciger Rd.,
Fort Worth, TX 76133
(817) 292-6330
CLC Nurse Aide Training and Competency Program
15100 Trinity Blvd.,
Fort Worth, TX 76155
(817) 785-0490
Tarrant County College Butler Learning Center Nursing Aide Program
5301 Campus Dr.,
Fort Worth, TX 76102
(817) 515-8223
Park View Care Center
3301 View Street,
Fort Worth, TX 76103
(817) 429-1923
Universal Health Services School of Vocational Education
1208 Country Club Ln.,
Fort Worth, TX 76112
(817) 446-4221
Marine Creek Nursing and Rehabilitation Center
3600 Angle Avenue,
Fort Worth, TX 76106
(817) 624-6164
Life Care Center of Haltom CNA Program
2936 Markum Dr.,
Fort Worth, TX 76117
(817) 831-0545
To become a nursing assistant in Texas you must complete a state approved course and pass the state license exams. During your course instruction you will get theory and coursework about the job of a nurse aide as well as hands-on experience in a clinical setting. Some of the practical skills training you will receive are: transporting patients, measuring vital signs, catheter management, assisting with dressing/bathing/toileting, range of motion exercises, safety protocols, and nourishment.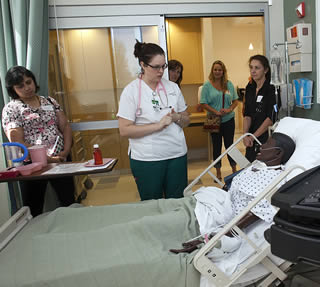 You can apply for the exams if you have completed training from a school and have passed both the federal and the state background check. Normally your training facility can set up a date for you to take the exams. You can also contact the Nurse Aide Competency Evaluation Services locally at (512) 467-0615 or at 1-800-444-5178 to find a testing location.
When taking the exam you will notice it is broken down into two different parts. These are a written test with 70 multiple choice problems, and a demonstration test where you must perform five skills chosen at random. In case you fail the exams, you can retake it up to three times before a mandatory retraining. Once you pass the competency exams you become a registered nurse aide with active status and certified to work for 24 months. You can call this number to check your certification status at any time 1-800-452-3934 using the automated phone line.
Fort Worth is located in the Northern Central part of the state. It is included in the counties of Tarrant, Parker, Wise City, and Denton; where it serves as the county seat for Tarrant County. Named after Major General William Jenkins Worth, it is also known as Cowtow or Panther City. With a total population of 741,206 residents during the 2010 census, it ranks as th3 5th most populous city in the state and ranks 16th in the entire country. The total area of the city is approximately 298.9 sq miles, where 6.3 square miles of it is water.
The John Peter Smith Hospital is one of the main employers in the city. Other health care centers that are located in Fort Worth include Planned Parenthood Of North Texas Inc., First Hand Nutrition Company, Depression Connection for Recovery, Women's Center Of Tarrant County, Right at Home, Bridgeway Health Services, and many more. photo attribution: codnewsroom