The state recommended nursing assistant training you can find in Fall River, Massachusetts is listed on this page. These programs are currently enrolling students and have met the approval of the nurse aide registry and allow you to qualify for the license exams. If you want to find out more about their requirements, please call the number provided below.
Health Care Training Services
657 Quarry Street,
Fall River, MA 02723
(508) 672-6800
http://www.hctschool.com/
Bristol Community College
777 Elsbree Street,
Fall River, MA 02720
(508) 678-2811
http://www.bristolcc.edu/about/contact.cfm
American Red Cross
315 Pleasant Street,
Fall River, MA 02721
(508) 676-8276
http://www.redcross.org/
If you want to become a nursing assistant, then you must be able to complete your training in CNA course. To ensure that you will be able to receive proper training, the Registry has required aspiring nursing assistants to enroll only in programs that are approved by them. When you graduate from such a program, you will have a total of 100 hours of training. By completing a training program, you will then be able to apply for the license exams.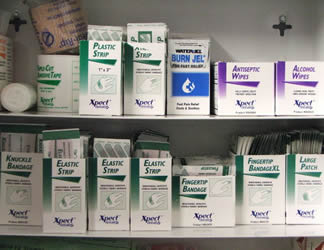 Those who trained in CNA courses will not be the only ones who will be able to apply for the exams, nursing students are also able to do this. When they apply, they will need to submit their transcript of records, the results of their background checks, and the payment of the application fees.
If you are able to pass all of the exams, your name will be entered in the state's Registry. Only those whose names are on the list are allowed to work in a healthcare facility. Your license will be valid for up to two years. If you want to continue your work, then you will have to renew it. To be eligible for renewal, you must have at worked for at least 8 hours with pay during that time, while under the supervision of a registered nurse. Contact the MA Nurse Aide Registry for additional details at (617) 753-8144.
If you are a certified nursing assistant from a different state, you can still work in Massachusetts. All you have to do is to apply for reciprocity. When applying, you must still be an active licensed nursing assistant had must be in good terms with the state you come from. If you are not yet or no longer is a certified nursing aide, you will have to take the state exams.
Fall River is a part of Bristol County. You can find this city along the shore of Mount Hope Bay. It is only a few miles from Boston, New Bedford, Taunton, and Newport, Rhode Island. According to the census of 2010, their total population of 88,857 people made them the 10th largest city in the state. They have a total area of 38.2 sq miles and a population density of 2,933.3/sq mile. Fall River is also known as The Scholarship City, or is simply called as "The Riv".
Health care centers and providers that are serving this city include Saint Anne's Hospital, South Bay Early Intervention, Centennial Healthcare, Dimant Murray Physician, Seven Hills Behavioral Health, Duncan Hearing Healthcare, Fellowship Health Resources, Family Service Association, McGinnis Health Care, Preferred Health Care Services, Healthcare Pharmacy, and many more.