The schools offering CNA courses that are currently open in Bennington, Vermont are shown on this page. For any questions, you can call the program listed with the contact number provided.
Bennington Health and Rehabilitation Center
2 Blackberry Lane,
Bennington, VT 05201
(802) 442-8525
Centers for Living and Rehabilitation
160 Hospital Drive,
Bennington, VT 05201
(802) 447-5460
Vermont Veterans Home
325 North Main Street,
Bennington, VT 05201
(802) 442-6353
Vermont is a great place to become a CNA. Certified nurse aides in Vermont are better known as LNAs or licensed nurse assistants. Although the state's demand might not be that large compared to others, training to become a nurse assistant here can still offer great experiences.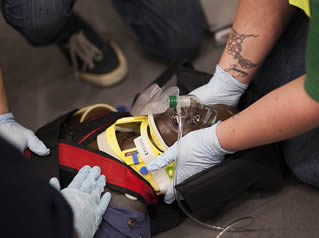 Like other states, nurse assistants in Vermont are required to get a license/certification before they are allowed to work in a state-certified nursing facility. The only way can get a certification in this state by challenging the NNAAP exam. This exam consists of a 75 item multiple-choice knowledge test and a skills evaluation exam.
Here are the following ways which you can establish eligibility to apply for and take the exam:
•    As a new nursing assistant candidate
•    As a nursing student candidate
•    Through endorsement
•    Out-of-state trained nursing assistant candidate
•    Renewal by lapsed or inactive LNA in the state
The most common way of establishing eligibility is the first option, since the 2nd to 5th options are required to get an Authorization to Test from the Vermont Board of Nursing before they can take the NNAAP exam. Aspiring LNAs must undergo proper training by completing an LNA training program that is approved by the state.
Approved programs are required to offer at least 75 hours of classroom lectures and another 30 hours of supervised clinical practice. Students are placed under the supervision of a Registered Nurse while in the clinical area. They are taught about important concepts that will help them become competent LNAs such as infection control, basic nursing skills, communication and interpersonal skills, respecting the patient's rights and promoting their independence, safety and emergency care, and many more.
As soon as they complete their program they must submit the Initial Application Form (http://vtprofessionals.org/opr1/nurses/nursing_assistant_forms/NU_LNA_Exam_Application.pdf) to:
Office of Professional Regulations
Board of Nursing
89 Main St., 3rd Floor
Montpelier, VT 05620-3402
Phone: (802) 828-3089
Once the Board receives your application they will respond to you in a few days with detailed instructions on what to do. Please don't send the application form for the NNAAP exam before you read their response.
If you pass all the tests of the NNAAP exam, the Nurse Aide Registry will send you your license which is valid for 2 years after passing. To keep your eligibility to work in a state-approved nursing facility you are required to renew your licensed every 2 years.  The state requires a minimum of 400 working hours in providing nursing services while under the supervision of a nurse to qualify for renewal.
The town of Bennington serves as one of the county seats of Bennington County; the other one is Manchester. This town is the biggest town that is located in the southern part of the town. It is also the 3rd biggest in the entire state. As of the 2010 census, their total population had reached up to a total of 15,764 people with a population density of 372.45/sq mile. The total area of the city is approximately 42.5 sq miles.
The Southwestern Vermont Medical Center is the main health care provider that is serving this town.  Bennington Rescue Squad is the main 911 responder in the area. Other health care providers that are located there include Bennington Cardiology, Mt. Anthony Primary Care, Sleep Disorders Lab, Internal Health & Wellness, and many more. photo attribution: codnewsroom