The nurse aide schools enrolling for classes in Summerville, Georgia that are being offered as of the making of this post are listed on this page. For more information about their program requirements, feel free to contact the number provided.
Chattooga High School
989 Highway 114,
Summerville, GA 30747
(706) 857-2402
Oakview Nursing and Rehabilitation Center
960 Highland Ave.,
Summerville, GA 30747
(706) 857-4761
It is the Georgia Medical Care Foundation that is responsible for managing all the Nurse Aide Training Programs and certification exams. They make certain that the programs produce well competent nurse assistants that can handle different situations in different healthcare locations. These nurse aides must also be able to meet the hiring requirement of the Medicaid healthcare institutions. The GMCF is a private contractor that was authorized by the Department of Community Health. One of the most important reasons for this is to improve the standard of care that is rendered by nursing assistants.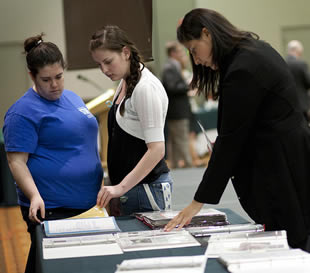 CNA training programs offer its students a total of 85 hours of training. Out of all the training hours, it must have a minimum of 24 hours of clinical duties. The training will be composed of lectures, lab skills training, and clinical rotations. A student will not be allowed to proceed for clinical duties if they will not get a 100% rating in their lab rotations. Depending on the program you select to enroll in, it will take an average of 2 to 6 months of continuous training to finish the program.
If you are through with the training, the next step is to apply for the license exams. The license exams will be composed of a written and a skills exam. You must pass all the exams in order to get your name entered in the state's Nurse Aide Registry. Completion of the exams allows your name on the state registry for two years. To remain listed past that time you will need to renew. Renewal is accomplished by sending in verification of time spent on the job in the capacity of a nurse aide.
Summerville is the county seat of Chattooga County. According to the census of 2000, their total population was around 4,556. It has a total area of 4.0 square miles, where all of it is land. Its population density is estimated to be 1,139/sq mile.
Examples of health care providers and facilities that you can find serving the city include Stroub Kenneth J DO, Caron Medical Clinic, Lookout Mountain Community Service, Hill Sanford M MBA DC Pmd Jd Doctor Lawyer, Harbin Clinic Family Practice, Harbin Clinic Summerville Family Practice, and many more. photo attribution: codnewsroom