The training in Stuart, Virginia that is open for enrollment for future nursing assistants can be seen on this page. Those who are interested in receiving more information about their health-care classes, should call the school.
Blue Ridge Nursing Center
105 Landmark Drive
Stuart, VA 24171
(276) 694-7161
R. J. Reynolds-Patrick County Memorial Hospital
18688 Jeb Stuart Hwy.
Stuart, VA 24171
(276) 694-3882
You can start a fulfilling and a stable career in the field of health by becoming a nursing assistant. These care workers are one of the most in demand professionals in the United States' Healthcare Industry. They work under the supervision of registered nurses and can be found in almost any healthcare setting, including the patients' own homes.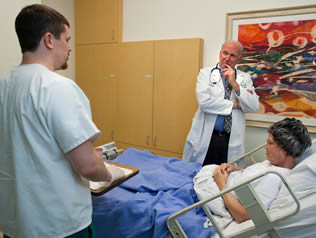 Requirements to become a CNA in Virginia
–    Complete a state-approved program
–    Pass the physical and health examinations
–    Pass the federal and state criminal background checks
–    Challenge and pass the National Nurse Aide Assessment Program Examination
CNA Training Programs
These medical training programs are offered by different healthcare institutions and schools. They are there to provide aspiring nursing assistants with the knowledge and skills to properly take care of their patients' individual needs. What separates nursing assistant training from the rest is that you don't need to spend years learning the profession. All you need is to complete a program that is approved by the Board of Nursing, which generally takes 2 to 6 months of continuous training.
Completing an approved training program is a requirement to apply for the NNAAP exam, which is the final step in becoming a CNA. Another advantage of this profession is that there are numerous routes that you can take. Nursing students and graduates can also apply directly for the NNAAP exam if they wish to work as nursing assistants.
Criminal Background Checks
The background checks are mandatory for all nursing assistant candidates. The state requires the background check prior to handling any patient. In order to proceed to the clinical area, students must undergo the checks with fingerprinting. There are even some programs that require the checks upon enrollment.
The National Nurse Aide Assessment Program Examination or NNAAP exam
The NNAAP exam is conducted by the NACES with the help of Pearson VUE. It is a two part examination that initially consists of a multiple-choice written exam and a practical skills evaluation. Candidates who have trouble reading can request for an oral exam instead, with no extra charges. You can get a copy of the application forms by downloading it from his link: http://www.asisvcs.com/publications/pdf/075301.pdf.
The forms already include the necessary instructions regarding the registration process. Please do not forget to include the payment of $94 for the testing fee. Payment should only be in the form of a money order, company check, or a cashier's check. Personal checks and cash are not accepted. Incomplete application forms will not be processed.
The Nurse Aide Registry
This is a master list of nursing assistants who are allowed to work in Virginia. Employers will only hire a nursing assistant if his or her name is found in the NAR. A candidate's name will only be entered here if he passes both parts of the NNAAP exam.
This the county seat of Patrick County. The city got its named from Confederate Gen. J.E.B. Stuart. According to the 2010 census, their total population was around 1,408 people. It has a total area of approximately 0.7 sq miles, and has a population density of 1,301.5/sq mile.
Health care facilities that are located in the city include Pioneer Family Medical, Patrick County Family Practice & Obstetrics, Patrick County Family Practice PC, Kramer Ralph MD, Kipreos Nicholas T MD LLC, Caring Hearts Free Clinic, Cole Richard C MD, and many more. photo attribution: codnewsroom