The state tested nurse aide (STNA) classes that are open for enrollment in Columbus, Ohio are found in detail below. To find out more about their schedules, tuition fees, and other requirements, please call the school contact number provided.
Allia Healthcare Services
1495 Morse Road, Suite 101
Columbus, Ohio 43229-3526
(614) 847-3617
www.aliahealthcare.com/
Chamberlain College of Nursing
1350 Alum Creek Dr,
Columbus, Ohio 43209
(614) 398-2782
http://www.chamberlain.edu/nursing-schools/
Nursing Direct
5086 N High St,
Columbus, Ohio 43214
(614) 859-2199
LaBelle School of Nursing Assistants
6100 Channingway Blvd,
Columbus, OH 43232
(614) 367-9948
Felbry College of Nursing
1900 Polaris Parkway. Ste. 475,
Columbus, OH 43240
(614) 781-1085
http://felbrycollege.com/
Risk Management Solutions
285 Cozzins Street,
Columbus, OH 43215
(877) 699-3988
Columbus State Community College
550 East Spring Street,
Columbus, OH 43215
(614) 287-5353
http://www.cscc.edu/
Mother Angeline McCrory Manor
5199 East Broad Street,
Columbus, OH 43213
(614) 751-5700
http://mangelinemanor.org/
Mid Ohio Home Health Care
4489 Sinclair Road, Suite-115,
Columbus, OH 43229
(614) 751-9780
www.midohiohomehealthcare.com/
National Church Residences
2335 North Bank Drive,
Columbus, OH 43220-5499
(800) 388-2151
Fax: (614) 451-0351
http://www.nationalchurchresidences.org/
Larock Healthcare Academy
3260 West Henderson Road, Suite- 020,
Columbus, OH 43220
(614) 733-9542
http://www.larockacademy.com/
Atrium Centers, Inc.
2 Easton Oval, Suite- 210,
Columbus, OH43219
(614) 416-0600
http://www.atriumlivingcenters.com/
Peregrine Health Services, Inc.
1661 Old Henderson Road, Suite- 400,
Columbus, OH 43220
(614) 459-2656
http://www.healthcareventuresohio.com/index.html
A practical means of entering the medical field is to become a nurse aide. In Ohio, certified nurse aides are known as state-tested nurse aides or STNAs. These are individuals who help the nurses take care of the patients by providing them with nursing care. Since they are working mainly under the supervision or a registered nurse, the tasks that they will perform for the patient's will depend on what the nurse delegates to them.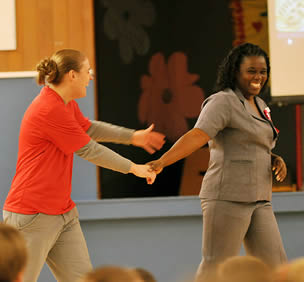 If you are planning on working long-term as a nurse aide, you must first get certified by passing the state's competency exams. If you are able to pass both the written and practical skills portion, your name will be entered on the Ohio Nurse Aide Registry. The Registry is a masters list of all the individuals who have proven themselves competent in both skill and knowledge to become a nurse aide. Nurse aides from other states may also enter Ohio's NAR by applying for reciprocity.
A licensed facility may temporarily hire you as a nurse aide and work there. This time is known in the state as the "4-month grace period". Since this period is cumulative, every day that you are hired as a nurse aide, regardless of employer, will add to your grace period. An individual is only allowed to continue working beyond the grace period if the individual has proven himself or was deemed competent in delivering nursing care by the Director of Health; the individual has passed the required training and state testing; the hiring facility has received information from the Registry that the individual has met the competency requirements.
While still under the nursing facility, individuals who are not yet certified are enrolled by their employer into a state-approved training program. These programs last 5 to 8 weeks in all. A temporary nurse aide must become certified within 4 months from the start of his work in order to prevent any interruptions. For those who already took up the Fundamentals of Nursing, and simply want a review of what they learned, they can enroll in a state-approved 2-week refresher course.
Columbus is the capital of Ohio. This city is also considered as the biggest city in the state and is the county seat of Franklin County. Its size had earned it a rank as the 5th biggest city in the entire United States. Columbus, Ohio is also known as the Discovery City, Arch City, Indie Art Capital, Cowtown, and the Biggest Small Town in the country.  It has a total population of 797,434 back in 2011, and a total area of 223.11 square miles.
Examples of health care centers that are located within Columbus include Dover Dental Group, Southeast Mental Health & Recovery Services Inc., Franklinton Dental Group, Hand and Microsurgery Associates, Access Urgent Medical Care, Solis Women's Health, Saribalas Clinic, Grant Medical Education, and many more. photo attribution: ufv