Training courses to become certified as a nursing assistant that are available in South Charleston, West Virginia are found here. To receive the latest info about entering their program you should call the institution and talk with a school admissions representative.
Special Touch Training Center
510 C Street,
South Charleston, WV 25356
(304) 756-9355
To work as a nursing aide, you'll need to undergo nursing aide training, pass the criminal background checks, and pass the State Competency Exam. In meeting those requirements you'll also be required to undergo physical and medical exams and other necessary tests.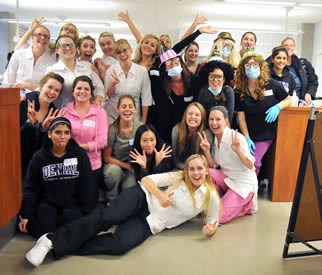 Looking for a suitable training program in West Virginia is no problem at all. There are state-approved programs that are offered by various healthcare institutions and schools. All programs are closely monitored by the State to ensure that students receive proper education and training. You can find programs offered by hospitals, nursing homes, assisted living centers, community colleges, long-term care facilities, private training centers, vocational and technical schools, Red Cross, and many more.
Approved programs are required to offer a minimum of 120 hours of training. These hours are divided into 65 hours of classroom/lab works and 55 hours of supervised clinical training. During training, students are not allowed to perform any procedure without the presence or knowledge of the instructor. Depending on the program you choose, it can take you from about 4 to 24 weeks to complete a program.
Once you are through with your training you'll then be allowed to apply for the State Exam. The application forms will be given by your instructor at the end of your training. Sometimes, it is the instructors will be the ones who will apply for you. If not, then you'll need to contact the Personal Health Care Development at:
PHD
PO Box 399
Ona, West Virginia 25545
(304) 733-6145
Fax: (304) 733-6146
Website: www.profhd.com
Email: info@profhd.com
The State Exam is divided into a multiple-choice knowledge test and a skills evaluation exam. These tests are conducted on the same date with the assistance of a selected testing company. Candidates must pass both tests to get into the Nurse Aide Registry and a CNA Certification. Each candidate is given 3 attempts to pass. If they fail in an exam, they can immediately reschedule and retake the test(s) that they failed. If a candidate fails for the 3rd time, then he will have to undergo retraining.
A nurse aide with good standing and an active/valid CNA certificate from another state can transfer and work in West Virginia By applying for reciprocity. Interested individuals need to contact the State Nurse Aide program. You can check the listing of State Nurse Aide programs by following this link: http://siq.air.org/PDF/StateNAR.pdf.
This city is located in Kanawha County. You can find South Charleston on the southern side of the Kanawha River. Its location is actually northwest from Charleston and not southeast. As of the 2010 census, was estimated to be about 13,450 people with a population density of 1,803.0/sq mile. The city has a total area of approximately 8.3 sq miles, where 0.9 square miles of it is water.
Health care providers that are serving this city include Patel & Patel Inc., Elizabeth Brown PLLC, Thomas Memorial Hospital, Kanawha Valley Radiologists, Kanawha Valley Gi Association, Crigger & Assoc Ent PLLC, Camc Imaging Ctr-Southridge, Arvind B Shah Inc., Charleston Obstetrics/Gyn, Ortho Clinic, and plenty more. photo attribution: ufv