Nurse aide programs in Sister Bay, Wisconsin that are available for enrollment are all shown on this page. For more information about their certified nursing assistant classes, please call the number provided. Courses described below are recognized and approved by the state.
GOOD SAMARITAN AT SCANDIA VILLAGE
10560 APPLEWOOD ROAD
SISTER BAY, WI 54234-
(920) 854-2317
The state of Wisconsin is one of the best states to become a nursing aide. The training here is great and affordable. The job opportunities for new nursing aides are also great which makes it easier to look for work. A CNA certification is a requirement to work as a long-term nursing aide in this state. You can only get a certification if your name is entered into the Nurse Aide Registry. There are two general ways how you can gain entry: by testing or by reciprocity.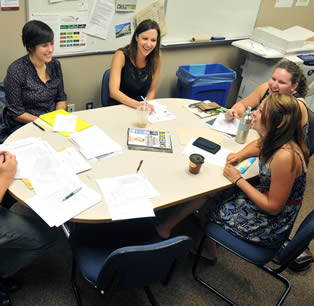 CNA Certification through Testing
This is the most common route taken to become a CNA. Persons who have never been nursing aides must take and pass the National Nurse Aide Assessment Program Exam or NNAAP exam. This exam consists of a written/oral test and a clinical skills test. Candidates must pass both tests to gain entry into the NAR. Only individuals who have successfully completed a state-approved training program are allowed to apply and take the exam. You can establish eligibility by completing a CNA program; by learning the Fundamentals of Nursing as a student nurse or graduate nurse; or by training as a military medic or corpsman.
CNA training in Wisconsin takes 120 hours to complete. Training curriculum is divided into both lectures and supervised clinical practice. The state requires that all programs must have a minimum of 32 hours allocated for practical training. Students are required to be supervised by qualified CNA instructors who were able to complete a Train-the-trainer program (http://www.dhs.wisconsin.gov/caregiver/pdffiles/trainTheTrainerProg.pdf) and have sufficient nursing experiences.  Depending on the program you choose, it can take you from 2 to 6 months to complete your training.
CNA Certification through Reciprocity
A nursing aide from another state who received similar training (120 hours of which 32 hours are allocated for clinical training) can gain entry into the WI-NAR by applying for reciprocity. Applicants must have an active certification and a good standing with their state. They must not have any records of patient abuse, neglect, misappropriation of patient property, or must not be listed on the Abuse Registry.
All applicants are still required to undergo fingerprinting and the federal and state criminal background checks. If an applicant is deemed eligible by the state's NAR, then the applicant will receive a CNA certification in the mail a few days after applying.  For more information regarding Out-of-State certification, please follow this link: http://www.asisvcs.com/publications/pdf/075001.pdf. The Wisconsin Nurse Aide Registry is handled by the Pearson Vue company and they can be reached toll free with any inquiries by calling (877) 329-8760.
This is a small village that is situated in Door County. It has a total population of about 886 people at the last census. Sister Bay has a total area of approximately 3.0 square miles, where almost all of it is land. Its population density is at 341.9/sq mile.
Examples of health care centers and providers that you can find in the area include Hearthside-Cordial Care, Miracle-Ear Hearing Aid Center, Webber Chiropractic Office, Mayhew Tom DDS, Northern Door Dental Sc, Traver Joan DR, John Ludwigsen DR, and many more. photo attribution: ufv