CNA classes in Shafter, California are provided in a list below. You can contact the number that was provided to get more information regarding your Nursing Assistant certificate.
Golden Living Training Center
140 E. Tulare
Shafter, CA 93263
(805) 746-3912
One of the reasons why a lot of people are aiming to become nursing aides is because of the job security. With the U.S. economy as it is today, a lot of people are losing their jobs. Luckily, there will always be a constant need for healthcare providers, especially nursing aides. According to the country's Bureau of Labor Statistics, the demand for nursing aides will continue to increase up until the end of the decade.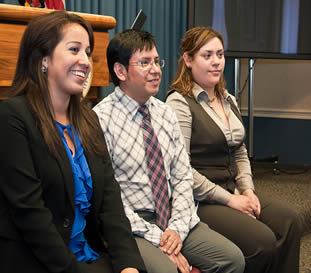 If you are interested in becoming one, the first thing that you need to do is to enroll in a state-approved CNA training course. Nurse aides take care of the patients throughout the day. They help provide nursing care as well as assist in their ADLs (Activities of Daily Livings). Enrolling in a certified training course will train you how to properly take care of the patients as a nursing aide.
CNA training consists of a minimum of 50 hours of classroom and practical skills instruction. Both classroom and practical training are taught at the same time. You can find these training courses being offered through different institutions and schools. There are even some websites that are certified by the CDPH to offer online training. When selecting a course to enroll in, just make sure to select one that is approved by the CDPH.
Completing an approved training program will make you eligible to apply for the certification exam. Employers in the state will only hire nursing aides who are certified by the ATCS. This exam consists of a written/oral knowledge test and a clinical skills evaluation. In order to get certified, you must pass both exams within 2 years after completing your training.
Due to the number of job opportunities of a nursing aide, even registered nurses, medics, and licensed vocational nurses are now trying to become nursing aides.  Since these individuals received similar training, they are allowed to apply for the exam without any need for further training.
CNA certifications are only valid for 24 months. To remain eligible to work in a state-approved nursing facility, you must renew your certification before it expires. You will need to work as a paid nurse aide for at least 8 hours, and complete 48 hours of in-service training/continuing education from an approved training institution. For more information, please follow this link: http://www.cdph.ca.gov/certlic/occupations/Documents/How-to-Renew-Your-Cert.pdf.
Shafter, CA is a city that is located 18 miles from Bakersfield. This city is also located just along State Route 43.  As of last year's census, the population has now reached up to 16,988 which was just 12,736 10 years ago. The zip code for Shafter, CA is 93263. This city has a total area of 27.9 square miles or 72.3 km2. It has a population density of 607.9 people per square mile which is made up of several races.
Health clinics that are well known is Shafter, these includes Shafter Community Health Center, National Health Services Inc.-A, National Health Services Inc., Shafter Rural Health Clinic: Qamruddin Salima MD, and Joy Carino Kimpo Women's. photo attribution: usdagov