The nursing assistant training schools located in Santee, California are being provided for you in detail below. For any questions, you can call the number provided below to learn how you can join and pursue your certification.
Grossmont Health Occupations Center
9368 Oakbourne Road
Santee, CA 92071
(619) 956-4300
[Multiple Classes available]
Website: http://hoc.guhsd.net/
Although becoming a certified nursing assistant might be considered easier compared to other healthcare careers, there are still several requirements that must be completed before one can start working. The first requirement that must be met is getting proper training. It is important that all aspiring nursing assistants receive proper training before they start taking care of any patient. One of the best ways to acquire the necessary training is by completing a state-approved CNA training program.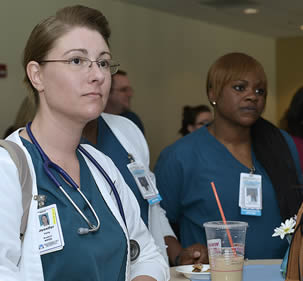 General requirements to enroll in a CNA Program:
•    Age: at least 18 years old
•    Education: have a high school diploma or something equivalent
•    Transcripts: official transcripts must be sent to the training institution where the aspirant is applying
•    Background Check: must not have any criminal records that prevent one from receiving a nursing assistant certification.
•    English Proficiency: must be able to understand and speak English
CNA training in California consists of 150 hours. These hours are divided into at least 50 hours of classroom training and practical training in an actual clinical setting. Students are placed under the supervision of registered nurses who have background experiences in training adults or supervising nursing aide students. Most of the programs in the state can be completed from about 2 to 6 months.
Once you are through with your training, you will become qualified to apply for the state's certification exam. This exam consists of a multiple-choice knowledge exam and a random skills evaluation.  Aspirants will only be given a CNA certification if they are able to pass both tests.
Taking the certification exam is a necessary step in becoming a nursing assistant. According to the law, all nursing assistants are must be properly trained and certified before working in a state-certified nursing facility. Employers are required to check each applicant's certification before hiring any of them.
In case you fail an exam, you will be given 2 additional attempts to pass. These attempts are only valid within 2 years after completing one's training. When retaking the certification exam, you will only be required to retake the test that you failed.  If you fail to get certified within that time or amount of attempts, you will be required to complete another training program to get certified.
Nurse aides that come from other states are welcome to find work here. The state offers reciprocity so they may continue their profession. When they apply, they should still have an active license. Call the (CDPH) CA Department of Public Health to discuss current requirements or ask any questions you may have about certification eligibility by calling (916) 327-2445.
Santee is a city that is part of San Diego County. It has about 53,413 people. It is located 18 miles from the Pacific Ocean and is connected by State Route 52. The total area of this city is 16.528 sq miles and has a population density of 3,231.7/sq miles.
Health care clinics that you can find within the city include Santee Health Care Center (619) 449-4222, US Healthworks of Calif (619) 448-4841, East County Psychological Services (619) 448-0133, Barker Chiropractic Clinic (619) 449-1601, and Scripps Clinic Santee (619) 449-6621. photo attribution: westconn