CNA classes in Santa Cruz, California are provided for you in this page. Nurses aide training programs included in the list are all the courses currently offered in this city. Please call the phone number provided for certified nursing assistant class schedules, tuition fees, and requirements.
Santa Cruz Adult School
536 Palm Street
Santa Cruz, CA 95060
831-429-3966
Advanced Pro Nursing Institute of Santa Cruz
2006 Mission St
Santa Cruz, CA 95060
831-426-8313
Classes offered: CNA, HHA, CPR, LVN Prerequisites, Medical Assistant, and Acute Care
For information about tuition or course schedules, please call: Rose Tan, Office Mgr 888-380-1788 or email Colleen O'Connell, RN,BSN, Instuctor: colleenbsn@gmail.com
A person can only work as a nurse aide in California if he has a CNA certification. Each state has its own requirements for getting a certification, but usually involves attending a training program and challenging the National Nurse Aide Assessment Program examination. During the process, you will also be subjected to the criminal background checks that are done through the Live Scan Services.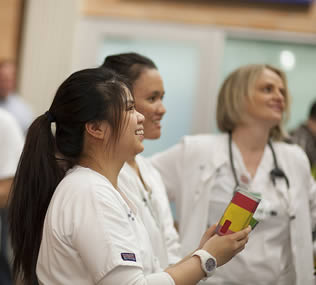 The state requires that approved programs must offer a minimum of 150 hours of training. Like all other programs, their curriculum is divided into theory and practical training. Most of the programs in California take 8 to 24 weeks to complete since they mostly offer more than the required hours of training.
Upon enrolling in a program, all students are fingerprinted for the criminal background checks. A copy of the completed Request for Live Scan Services form must be sent to the ATCS by the training facility before the start of the clinical rotation. No student is allowed to take care of any patient without undergoing the background checks.
By completing a state-approved CNA program you will become qualified to apply for the certification exam. This is the final step in becoming a nursing aide. Registered nurses, licensed practical nurses, military trained medics, and nursing students and graduates can also apply for this exam since they received similar training.
The certification exam is a two part examination that consists of a 70 item multiple-choice written/oral test and a skills evaluation exam. Candidates must pass both tests to get a certification. Each candidate is given 3 attempts to pass within 2 years after completing his or her training. If he or she fails to meet those conditions, he or she must undergo retraining.
Once you are certified, your name will be added to the Nurse Aide Registry. This is a master list that contains all the names of the individuals who have met the federal and state training and testing requirements. Employers will always verify each applicant's certification by checking this list by going to http://www.apps.cdph.ca.gov/cvl/SearchPage.aspx.
To keep your name on the list as well as your eligibility you must renew your certification every two years. To qualify for renewal you must provide proof of employment as a paid nursing aide for at least 8 hours as well as proof of completing 48 hours of in-service/CE by using this form: http://www.cdph.ca.gov/pubsforms/forms/CtrldForms/CDPH283a.pdf.
This is the county seat of Santa Cruz County. With a total population of 59,946 it is also the largest city in the entire county. You can find Santa Cruz just north of Monterey Bay and South of San Francisco. It has a total area of 15.828 sq miles and a population density of 4,705.3/sq miles.
Health care clinics and facilities that you can find in the city include Mental Health Client Action, Santa Cruz Acupuncture Orthopedics and Sports Medicine Clinic, Santa Cruz Main Clinic – Palo Alto Medical Foundation, Physical Medicine & Rehabilitation (Santa Cruz) – Palo Alto Medical Foundation) – Clinic, FAHRENBACH CHRISTINE PHD, STD Test Express, Family Doctors of Santa Cruz, and Dominican Way – Palo Alto Medical Foundation – Clinic. photo attribution: codnewsroom