The recent nursing assistant classes in San Pedro, California are provided in the detailed list below. You can see on the list state recognized schools, schedules, as well as facility based and non-facility based programs. Just contact the phone number to get more information.
Harbor Occupational Center
740 N. Pacific Ave.
San Pedro, CA 90731
(310) 531-3551
Excell Vocational Center
1430 W 6th Street
San Pedro, CA 90732
(310) 514-4780
Excel Vocational Center
1851 North Gaffey St #B
San Pedro, CA 90731
(310) 514-4780
[Weekend And Evening Classes Available]
The number of people who are asking questions about how to become a nursing assistant in California is increasing. Like most states, you can only work as a nursing assistant if you have a CNA certification. The certification process in this state is generally the same as others. It involves completing an approved program and ends by challenging the state's certification exam.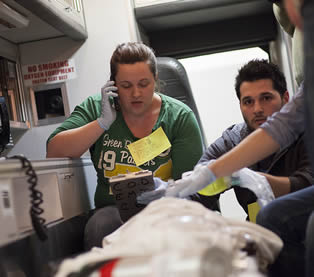 CNA Training
Due to the number of people who are now looking for training programs to enroll in, there are now a lot of institutions and schools that are now offering CNA training. When looking for a program to enroll in, you just need to make sure that the program is approved by the California Department of Public Health.
Examples of where you can find approved programs:
•    Hospitals
•    Nursing Homes
•    Rehabilitation Centers
•    Community Colleges
•    Vocational Schools
•    Private Institutions
•    American Red Cross
•    Government Organizations
•    Technical Colleges
•    Long-term Care Facilities
•    Selected Websites
Nursing assistant training in this state consists of 50 hours of lectures and 100 hours of supervised clinical practice. Both the lectures and practical training are taught at the same time. During the entire training period the students will be supervised by a qualified CNA instructor.
Examples of topics that are covered by the programs:
•    Nutrition
•    Human Anatomy
•    Basic Nursing Care
•    Personal Care
•    Patient's Rights
•    Vital Signs
•    Weights and Measurements
•    Safety Precautions
•    Emergency Procedures
•    Communication Skills
•    Long-term Patient Care
Certification Exam
The certification exam is only available to individuals who have successfully completed a state-approved training program. This exam is divided into two parts – a multiple-choice knowledge test and a random skills evaluation. Candidates have the option to take either the written or oral test for the knowledge exam.
At the end of each test, your papers will be faxed for scoring. The exam results are normally sent back within 10 minutes after faxing. If you pass both tests your name will be forwarded to the ATCS. The ATCS will then send your CNA certificate, which is valid for 2 years, within 10 days after passing. Please call the ATCS at (916) 327-2445 if you do not receive your certificate within 30 days after passing the exam.
San Pedro is one of the port districts of L.A. City. As of 1909 it made and considered as a major seaport of the area. The economy of the city is dominated by the fishing industry, as well as tourism and shipping transport. The latest census revealed that this city has a total of 86,000 citizens.
The health care centers in the area include Healthview Inc (310) 221-0522, Alphabiotic Life Enhancement Center (310) 519-7700, Biomed California (310) 833-5508, Compassionate Caregivers of San Pedro (310) 732-2109, Naylor-Barber (310) 833-2497, Harbor Community Clinic (310) 547-0202, P T A Tenth District (310) 547-3830, San Pedro Health Center (310) 832-5818, Icon Health Center (310) 521-8269, Guidance Center of San Pedro (310) 833-3571, STD Test Express (424) 265-9335, and Cox Emmett II M D A Professional Corp (310) 519-3146. photo attribution: codnewsroom