The CNA Classes in Salisbury, North Carolina that are listed on this page are all state recognized and open for you to enroll in as of the moment. Included in the list are only training programs that are approved by the state of North Carolina. To learn more about enrollment options, call to talk with a member of the school.
Rowan-Cabarrus Community College
1333 Jake Alexander Boulevard South
Salisbury, NC 28146-8357
(704) 637-0760
http://www.rccc.edu/
A CNA or a certified nursing assistant helps licensed nurses take care of their patients by providing nursing care. The tasks that a nursing assistant does are limited and depend on what the nurse delegates. These tasks mainly focus on basic care, promoting safety, help with nutrition, elimination, and do routine procedures such as taking the patient's vital signs.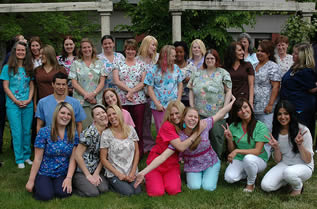 If you wish to increase the scope of your work as a nursing assistant, you can train to become a CMA or a certified medication aide. CMAs are nursing assistants who are trained to give selected medications to patients, while still under the supervision of the nurses and the medical staff.
To be a CMA, you must be listed on the Nurse Aide I Registry and have no substantiated findings on your record like abuse, neglect, or misappropriation of a patient's property. This means that for you to be listed on the NAR, you must undergo the necessary training and pass the competency exam.
Once you are listed on the NAR, you will be eligible to enroll in a medication aide training program that is approved by the North Carolina Board of Nursing. These programs will only take 24 hours to complete. To know what training programs that are in your area, you can contact your local community college or call the Area Health Education Center or the state's Board of Nursing.
After your training, the next step is to challenge the state medication aide examination. This exam will consist of 60 multiple-choice questions which will be administered by Pearson VUE on an electronic testing system. As soon as you are done, the results will immediately be released.
Like the CNA exams, you will be given three attempts to pass the exams within 2 years from the completion of your training. If you are unable to pass the exam within 3 attempts or within 2 years, you will need to repeat your training before you can retake the exam.
To know more about how to become a certified medication aide, you can download a copy of the CMA candidate handbook by going to this link: http://www.asisvcs.com/publications/pdf/023400.pdf.
This city is a part of Rowan County. It is also the county seat of Rowan. According to the 2010 census, their total population was around 33,663 people. It has a total area of approximately 17.8 sq miles and a population density of 1,488.3/sq mile.
The major hospitals that are serving the city are the Rowan Regional Medical Center and the W.G. (Bill) Hefner VA Medical Center. Other health care centers that you can find in the city include RHA Health Services, Alcohol Abuse Chemical Dependency Counseling Service, Piedmont Behavioral Healthcare Rowan Center, Piedmont Foot and Ankle Care, Gentiva Health Services, and Central Carolina Nephrology. photo attribution: ufv