Those who want to become certified to work as a nursing assistant in Rugby, North Dakota can locate the available training on this page. Students will get to practice a variety of health care tasks during instruction as well as receive theoretical class lectures. Call the program director to learn more.
Heart of America Medical Center
800 South Main Ave., Rugby, ND 58368
(701) 776-5261
http://www.hamc.com/
Getting a CNA certification in the state of North Dakota, may have a lot of requirements. For one, you must be able to complete a 75-hour training course that is approved by the state in order to receive the proper education and training on how to function as a nurse aide. These courses can be completed within 2 months of continuous training and are offered by a wide array of training facilities.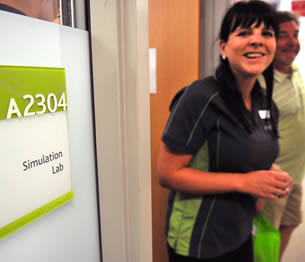 In some courses, you will have to undergo physical examinations to determine that you are physically capable of handling the patients. You may also have to pass the criminal background checks before you are accepted. The checks are done in both federal and state levels. If you were a healthcare professional and had records of abuse, neglect, or theft, you may not be accepted and be allowed to work as a nurse aide.
After you complete your training, you are then ready to challenge the license exams. The license exams for North Dakota are handled by Pearson VUE and like all other exams, they consists of a written/oral exam and a skills evaluation exam. You are given 3 attempts to pass all the tests. These attempts must also be done within 2 years from the completion of your training. For those who are already working as a nursing assistant for a nursing facility, they will only have 4 months from the start of their work to get certified.
On the day of the exam, you must arrive at least 30 minutes before the actual scheduled time. If arrive late, you will no longer be allowed to take the exams. You will also not be given a refund for the payment you made. If you have problems with the day of the exams, you can call Pearson VUE at (800) 475-8304 to reschedule. To avoid penalties, you have to inform them at least a week before your scheduled exam date. Please remember to bring proper identification on the day of your exam. This can be your driver's license, SS card, or any other government-issued ID.
For this state, the exam results are normally released on the same day of the exam. If you pass all the tests, your name will be added to the registry and you will receive your license within a few days. Your license and status on the Registry will be valid for only 24 months. To retain your status, you will have to renew your license by being able to provide proof that you had at least work for 8 hours during that time. Renewal of your license can be done through mail or online.
This city is the county seat of Pierce County. It was founded back in 1886 and was originally platted as Rugby Junction. The name of the town was taken from Rugby in Warwickshire, England. As of the 2010 census, their total population was around 2,876 people. They had a population density of 1,483.2/sq mile. The total area of the city is estimated to be 1.94 sq miles, where all of it is land.
Health care facilities that are found in the city include Take Care Clinic at select Walgreens, North Central Human Service Center, Heart of America Medical Center, Heart of America, Johnson Clinic PC, Golden Heart Services, Windshield DR Inc., and many more. photo attribution: ufv