You can find the nursing assistant training being given in the town of Rolla, Missouri listed here. These programs will teach you the basic health care skills in order to help you pass the certification exams and become knowledgeable about the job. Call to arrange a class time and enroll.
Rolla Technical Institute/RTC
1304 E Tenth St, Rolla, MO 65401
573 458-0150
http://rolla.k12.mo.us/schools/rtirtc/
Becoming a nursing aide is one of the best options to start working in the medical field. With its current demand today, you will have no problems looking for a job as soon as you become a CNA. To be one, you must get your name on the Registry by passing all the tests in the CNA license exams as soon as you complete your training.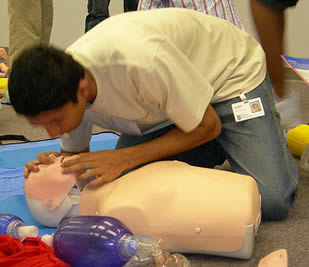 Your training will consist of 75 hours of classroom instructions on different concepts of Nursing and 100 hours of actual duty in a nursing facility. As a nursing assistant student, you will learn about infection control, mental health and rehabilitation, promotion and respect of the patient's independence, assistance in their activities of daily living, and certain emergency procedures.
The license exams are composed of a written and a skills demonstration on randomly selected nursing skills. These exams are not only limited to those who enrolled in nursing assistant classes; nursing students may take it also. Those who are applying for out-of-state endorsement will also need to take and pass the state's license exams. For more information, you can follow this link: http://health.mo.gov/safety/cnaregistry/faqs.php#gen9.
To work as a nursing assistant in the state of Missouri, your name must be on the CNA Registry. You must also have an active status on the Registry. Those that have active statuses are the only ones who are eligible to work in a long-term healthcare center. They are the ones who were able to comply with the Federal and State regulations.
In order to keep your status active, you must work for at least a day every 2 years. For those who are working in a log-term healthcare facility, they will need to attend the facility's yearly 12-hour in-service. The in-service is not a requirement for the nursing assistants but is a requirement for the facility to keep its license.
If you have been working as a private CNA, you may still keep your license active. All you need to provide is proof off your employment which may be: a copy of form 1099; a copy of W-2 form; a copy of your pay stubs; or a letter proving your private duties from the Power Attorney of your employer.
Rolla is the county seat of Phelps County. You can find this city halfway between St. Louis and Springfield, just along Interstate 44. According to the census of 2010, their total population has now gone up to 19,559. Rolla is a part of the Rolla Micropolitan Statistical Area. The total area of the city is about 11.3 sq miles, where all of it is land. Its population density is 1,631.7/sq mile.
Examples of the health care centers that you can find in the area include St John's Clinic-Rolla Medical Group & after H Ours, St John's Clinic, South East Missouri Behavioral Health, Girling Healthcare, Comprehensive Breast Center Of Phelps County Regional, Becka Edward A DO – Mercy Medical Group, Rolla Orthopedic Clinic – Thomas F Satterly Jr DO, and Rolla Urgent Care. photo attribution: niels_olson