The nursing assistant training programs shown on this page are all currently available classes in Rochester, Pennsylvania. If you want to know more about joining a school course, you can contact them through the phone number shared directly below.
Rochester Manor Nursing
174 Virginia Ave.,
Rochester, PA 15074
(724) 775-6400
A CNA license is a requirement to work in any health care facility in Pennsylvania that receives Medicare or Medicaid reimbursements. To get a license, one must gain entry into the state's Nurse Aide Registry by passing the license exams right after successfully completing a state-approved program.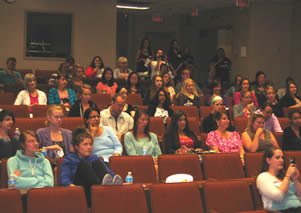 To be employed as a nursing aide in a certified nursing facility, one must be at least 16 years of age. A candidate must be free of any criminal records such as theft, substance or physical abuse, or other similar offenses. To protect the patients, all nursing aide candidates are required to undergo federal and state background checks before enrolling in a CNA class. All training facilities are required to include the results of the background checks as a requirement upon enrollment.
You should select a nursing assistant program that has been pre-approved by the state of Pennsylvania. Classes will teach theoretical health care instruction that is mandated at the state and federal level. Nurse aide training in this state consists of 42.5 hours of classroom and laboratory work, and 37.5 hours of supervised clinical practice. Both theory and practical training are taught at the same time. Training programs are handled by registered nurses with at least 2 years of nursing experience and has some experience in training adults or supervising nursing aide students. Depending on the program you choose, it can take you around 12 to 24 weeks to complete your training.
After completing a program, you may now submit your application for the license exams. The license exams are scheduled by the American Red Cross and are conducted with the help of Pearson VUE. You can get the latest information about testing locations by calling the American Red Cross at this phone number: 1-800-795-2350.
This exam consists of a multiple-choice written exam and a manual skills demonstration. The written exam can be replaced with an oral examination if the candidate has trouble reading or would simply prefer to take an oral exam. If a candidate passes both tests within 24 months after completing his training, this name will be entered into the Nurse Aide Registry and will be given a license.
If you are a certified nursing aide from another state, you can work in Pennsylvania as a CNA without the need to undergo any further training or testing; you just need to apply for reciprocity. You must have an active license and a good standing to qualify for reciprocity. If you wish to apply, you need to contact the PA Department of Health through Pearson VUE at (800) 852-0518. The application form can be downloaded from their official website at www.pearsonvue.com.
If you haven't taken the exams yet, you may call the American Red Cross if you have any questions regarding:
–    Application process;
–    Application deficiencies;
–    Exam schedules and/or exam status;
–    Available testing sites;
–    Change of applicant's name or address;
–    Requesting for application forms;
–    Requesting for CNA Candidate Handbook;
Rochester is a borough that is located in Beaver County. It is located only a few miles from Pittsburgh. Rochester is also a part of the Pittsburgh metropolitan area. According to the last census that was taken there, their total population had reached up to a total of 4,014 residents. It has a total area of 0.7 sq miles.
Health care providers that are located in the area include Liken Healthcare Inc., Innovative Recovery Solutions Inc., P R N Health Service Inc., Phoenix Drop-In Center, Health Care Support Service, Wpic Beaver Valley Mental Health Services – Staunton Clinic, Mental Health Assoc in Beaver County, and Konrad Mark G MD. photo attribution: ufv