Students can locate education centers in Riverbank, California that provide nurse aide training in the list below. The list includes all the available state sanctioned schools that you can enroll as of this moment. For more information about requirements for the nurses aide certification exam, class schedules or program costs, contact the number provided.
Riverbank Nursing Center
2649 West Topeka Street,
Riverbank, California 95367
(209) 869-2569
A nursing aide is an individual who, for compensation, provides nursing and nursing-related care to patients in different nursing facilities like nursing homes and assisted living centers. These individuals work under the supervision of licensed nurses and members of the medical staff. Another type of nursing aide is the Home Health Aides. HHAs are also in demand in California and are one of the best ways to start a career in the field of health.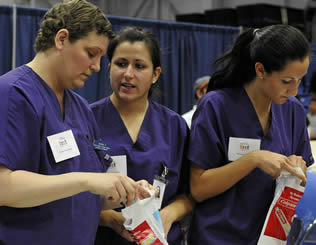 The first step in becoming a home health aide is to enroll in an approved HHA program. These programs are required by the CA Department of Public Health to offer 120 hours of training. These hours are divided into 65 hours of classroom lectures and 55 hours of supervised clinical training. Before the students handle any patient, they must first undergo and pass the Live Scan for criminal records.
If you wish to get the most of your training, you can simultaneously enroll in a CNA and an HHA program. Individuals who are enrolled in both programs are allowed to enroll in a 40-hour HHA program. These hours are divided equally into lectures and clinical practice in home health topics. It will serve as a supplemental program to the CNA program.
Unlike CNA certifications, HHA certifications are valid for 4 years. During this time, holders must complete 24 hours of in-service training or continuing education (12 hours per year).  Continuing Education Units must only be taken at providers approved by the CPDH, community or state colleges, adult education or regional occupation programs, through the American Red Cross.
If you are holding both a CNA and HHA certification, you can renew them at the same time. If you do, your total in-service/CE requirement is 48 hours.  You will need to maintain proper records of your in-service or CE hours. You must complete this form (http://www.cdph.ca.gov/pubsforms/forms/CtrldForms/CDPH283a.pdf) and send it along with the renewal forms (http://www.asisvcs.com/publications/pdf/070512.pdf) to the Aide and Technician Certification Section at:
California Department of Public Health
Licensing and Certification Program
Aide and Technician Certification Section
MS 3301
PO Box 997416
Sacramento, California 95899-7416
You can also email the office cna@cdph.ca.gov or fax it to (916) 552-8785.
The state of California is very open to CNAs that come from other states. They may still work in the state if they want to. Before they can work, they must apply for reciprocity. One requirement to get reciprocity is that they must still have an active license when they apply. They must have no records of negligence or malpractice from the state they come from.
Riverbank is another city that is part of Stanislaus County. According to the census of 2010, they have a total population of 22,678. This city is also part of the Modesto Metropolitan Statistical Area. The total area of the city is approximately 4.116 sq miles and has a population density of 5,509.7/sq miles.
Examples of health care providers that could be found within the city area are Riverbank Primary Care Clinic  209-869-0131 ‎, Riverbank Community Health Center  209-869-8102 ‎, Sally Beauty Supply 209-863-9828, and Planet Beach Tanning Salon 209-863-8320. photo attribution: westconn