Restorative certified nursing assistants play the expanded role of certified nurse assistants as they have undergone additional specialized training focusing in restorative nursing care. They help the clients in obtaining an improved quality of life by means of increasing mobility and strength levels. Often, these professionals work in hospital therapy departments, assisted living communities, long-duration care facilities, adult day care centers, home health agencies, and rehabilitation centers.
The restorative certified nursing assistants work with the residents who need restorative nursing measures in order to achieve or maintain the highest functioning level. They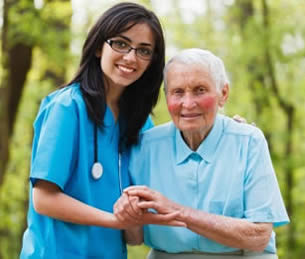 render direct restorative care as well as delegated therapy tasks and these include active and passive range of motion, special positioning techniques, ambulating, bladder restraining, and restorative dining.
Part of their duties also include giving assistance to the regular certified nursing assistants with regards to positioning, ambulation, specifics of activities of daily living, application of safety devices, documentation, and other assigned duties.
Specific duties that restorative nursing assistants perform include the following:
• Cleaning and organizing the work area as well as disinfecting the equipment following a treatment.
• Operating office equipment like the voice mail messaging systems. They also make use of the word processing, spreadsheet, and other software applications needed for the preparation of reports, letters, invoices, case histories, financial reports, and medical records.
• Giving instructions, motivation, and assistance to the clients who practice exercises as well as functional activities. This is done as directed by the medical staff.
• Recording the treatment that has been done including the equipment that were used.
• Having discussions with the colleagues for the evaluation of the client information necessary to plan, modify, and coordinate the treatment.
• Observing the clients at the time of the treatment for the compilation and evaluation of the data regarding their progress and responses. Also, they are the ones to report the data to the physical therapist.
• Securing the clients into therapy equipment.
• Changing linens which include the pillow cases and the bed sheets.
• Transporting the clients to and from the treatment rooms. Upon transportation, they make use of wheelchairs or have the provision of standing support.
• Arranging treatment supplies for them to be in order.
• Answering telephones and directing the calls to the appropriate recipient of the call.
In order to qualify for the restorative nursing assistant course, one needs to have the following criteria:
– The person must be practicing CNA with a minimum of six months experience following the completion of the CNA program.
– There must be a recommendation coming from the director of the nursing facility from which he or she is employed.
– The person must possess a high school diploma or GED.
For the education program, there is a manual available which is developed by the Department of Health and Senior Services. It has thirty hours of classroom and laboratory instruction. There is a minimum of 30 hours clinical practice for every participant and they are being supervised by the facilitator or licensed therapist. The evaluation may be gauged through written examinations.