The schools providing certified nursing assistant training in Quitman, Georgia that are available for enrollment are listed on this page. If you have any questions about how you can enroll in certification instruction, please call the number below.
Presbyterian Home
1901 West Screven St.,
Quitman, GA 31643
(229) 263-6100
Valdosta Technical College Brooks High School
1081 Barwick Road,
Quitman, GA 31643
(229) 263-8923
The state does not allow its nurse aides to work for long-term if they do not have an active license. That is why for those who are already working as a nursing assistant they must undergo the proper training and take the license exams within 4 months from their hiring. Some training in the state can be completed within 6 months. You just have to make sure that the program is approved by the GMCF.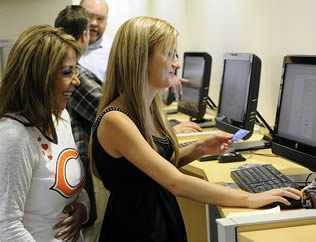 When you are enrolled in a program you will need to complete 85 hours total of instruction. This includes 24 hours of "on the job" training in a nursing home facility. This skills practice will be under the general observation of a registered nurse and will help you prepare for the state exams and give you experience for dealing with patients.
The license exams for this state have two parts, the written exam and the skills demonstration. To get a license, they have to pass all the tests. There are also some instances where the written exams are replaced with oral examinations. To get your name entered in the state's Nurse Aide Registry, you must pass all the exams. You should also maintain this status if you want to be eligible to apply for a long-term work in any healthcare setting.
Nursing assistants from other states are welcome to work in this state. They can only work in Georgia if they apply for reciprocity. When applying, the most important thing to have is a valid license and a good relationship with their state. Those who are applying for reciprocity are also required to pass the background checks for criminal records. Having records such as negligence or patient/resident abuse can be used as grounds for rejecting the application.
Quitman is the county seat of Brooks County. The city is sometimes called as the Camellia City, due to the abundance of trees growing in the area. Their total population was around 4,638, during the last census. Quitman has a total area of 3.8 sq miles, where all of it is land. Its population density is 1,220.5/sq mile.
Examples of health care providers that are situated in the city include Brooks Medical Associates, Dooley Cynthia DR, Archbold-Brooks Specialty Clinic, Archbold Home Health Services, Nightingale Clinic, The Bishop Foundation, and Velez Rachel DO. photo attribution: codnewsroom